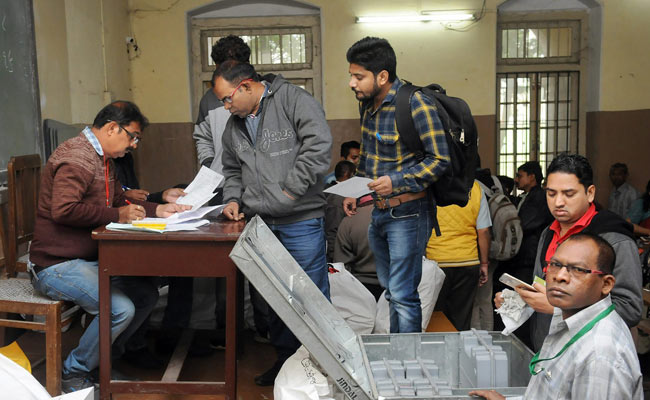 New Delhi:
Voting is underway for the
first phase of polling
in state assembly polls today. As many as 1,828 candidates are trying their luck in the two-phased assembly polls, and 397 candidates are
crorepatis
, according to an analysis of the election affidavits done by two NGOs.
The 397
crorepati
candidates contesting the assembly elections roughly make up for 21 percent of the total candidates.
Of the 977 candidates, who are in the fray for the first phase, 198 candidates have declared assets worth more than Rs 1 crore. The second leg of elections is slated for December 14. Among the 851 candidates contesting in the second phase, 199 nominees have assets more than Rs 1 crore, according to the report by the Association for Democratic Reforms (ADR) and Gujarat Election Watch (GEW), PTI reported.
Among the 397
crorepati
candidates, 131 have declared assets worth over Rs 5 crore, while 124 others have shown movable and immovable assets in the range of Rs 2 crore to Rs 5 crore.
The ruling BJP has given tickets to 142 such candidates while the opposition Congress has fielded 127 such nominees. The NCP has given tickets to 17 crorepati candidates, the Aam Aadmi Party (AAP) has fielded 13 such candidates and the Bahujan Samaj Party has given ticket to five such candidates.
The report said that 56 independent candidates also fall in the category. Other
crorepati
candidates belong to lesser known parties or outfits, according to the findings highlighted in the report.
Interestingly, Congress candidate for Daskroi seat, Pankaj Patel, is the wealthiest candidate who declared assets worth Rs 231.93 crore
He is followed by another Congress nominee Indranil Rajyaguru contesting from Rajkot-West seat who has declared assets worth Rs 141.22 crore. Mr Rajyaguru, who has been pitted against Gujarat Chief Minister Vijay Rupani, is followed by BJP candidate for Botad seat Saurabh Patel. Mr Patel is former Gujarat finance minister and has declared assets worth Rs 123.78 cror.
BJP candidate and prominent businessman Dhanjibhai Patel of Wadhwan seat is in the fourth place with assets worth Rs 113.47 crore.
In a sharp contrast, six independent candidates have declared that they have 'zero' movable or immovable assets.
The report also suggests that as many as 13 candidates have declared that their annual income is more than Rs 1 crore, based on the last Income Tax returns filed by them.
In terms of education qualifications, the analysis revealed that 1,098 nominees have passed class 12 or below. As many as 119 candidates mentioned that they were only literate, while 23 others declared that they were illiterate.
According to the report, of the 1,828 candidates, 118 are women. This makes up for 6 percent of the total number of candidates. As many as 658 candidates are in the age group of 25 and 40 years, 889 between ages of 41 and 60, while 193 of them are between 61 and 80.
(With PTI inputs)