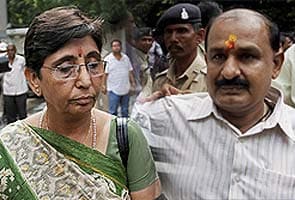 Ahmedabad:
The Gujarat Government has given the go-ahead for the death penalty to be sought for former BJP minister Maya Kodnani and nine other convicts for their role in the Naroda Patiya massacre, a 2002 Gujarat riots case. Ms Kodnani was once seen as a close aide of Chief Minister
Narendra Modi
.
Mr Modi's legal department yesterday cleared the request of the special investigation team (SIT) appointed by the Supreme Court, to appeal in the High Court against last year's order of a trial court, which had sentenced Ms Kodnani and the others to life imprisonment. They were convicted for the murder of 97 Muslims in Naroda Patiya, on the outskirts of Ahmedabad, during riots on February 28, 2002.
"Our brief is to show that this is a rarest of rare case. The ten convicts against whom there were strong evidences, we are going to appeal for their death sentence," special prosecutor Gaurang Vyas told NDTV today.
Narendra Modi
's detractors have alleged that this is an attempt by him to shake off the shadow of the Gujarat riots, which happened under his watch. More than 1000 Muslims were killed in the Gujarat riots. Mr Modi is now pursuing a national role and is the top choice of BJP cadres to be the party's prime ministerial candidate in next year's general elections.
This week, Zakiya Jafri, a petitioner who has accused Mr Modi of complicity in another Gujarat riots case, challenged the report of the SIT, which said it had found no evidence against the Chief Minister.
Ms Kodnani, a doctor by profession, is the first MLA and the highest-ranking politician to be convicted in a Gujarat riots case. Before she was arrested in 2009, she was had won three state elections from the Naroda area, and, despite the serious criminal charges against her in the riots case, was made Gujarat's Minister for Women and Child Development in 2007.
In August last year, the Ahmedabad trial court sent her to jail for 28 years. Babu Bajrangi, a leader of Rashtriya Swayamsevak Sangh affiliate, the Bajrang Dal, was ordered to spend the rest of his life in prison. Eight other people were awarded 31 years in jail. The SIT will seek the death penalty for all of them.
It will also seek enhanced punishment for 22 other convicts who were handed 24-year prison terms when it files the appeal next week.