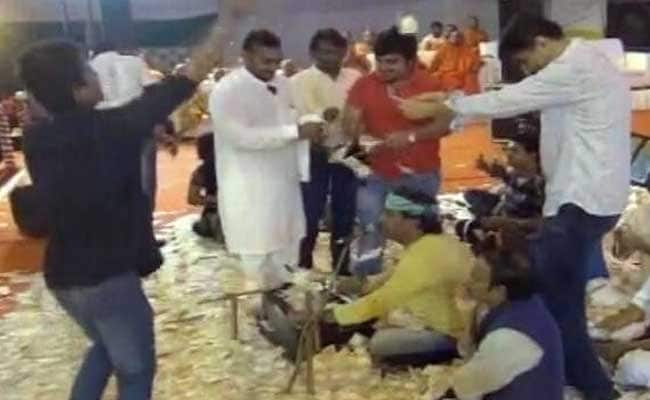 Ahmedabad:
Famous folk singer from Gujarat Kirtidan Gadhvi perhaps had not foreseen that he would land in the middle of a big controversy while performing at a cultural programme in the Vapi town of South Gujarat late on Thursday evening.
Wads of currency notes, worth lakhs, were showered on him at the event. He was performing at a Lok Dayro (folk music) event to commemorate 35 years of Swaminarayn Complex in Vapi.
Apparently, as part of the event's tradition, those attending it shower notes on the singer and the amount collected are used for a social cause.
Post demonetisation such events have come under the government's glare with sceptics pointing out that splashing of cash, when there is a crisis in the availability of notes, should be avoided.
Notes in the denominations of Rs 100 and Rs 500 were showered on the singer. The exact amount is not known, though it is believed that the collection has been in lakhs.
Folk singers in Gujarat are known to be showered with cash when they perform in any event. In Navsari, a town in south Gujarat, over Rs 40 lakh, in new currency notes of Rs 500 and Rs 2,000, were showered on another folk artist Farida Mir, in December last year, when Prime Minister Narendra Modi made the note ban announcement.
There were also reports about cash worth Rs 40 lakhs, in notes of Rs 10 and Rs 20, showered on folk singers of Gujarat at a programme in Navsari near Surat in December last year, at a time when the entire country was reeling from currency crunch last year. A video of people showering notes on the singers reportedly went viral on the social media.