Highlights
Congress is challenging BJP through new alliances in Gujarat
Both parties claim advantage in networks of volunteers on the ground
Field test pits claims against reality of the two parties' organisation
Mehsana:
As it heads into
an election in Gujarat next week
, the BJP faces a challenge to its dominance in one of its most prominent mainstay states from a host of factors - from anti-incumbency to a new generation of community leaders.
But the party says it will prevail - in part because of its legendary grassroots network, nurtured by BJP chief Amit Shah, which has proven successful in getting the votes out on Election Day.
The Congress has scoffed at this, claiming the Amit Shah-powered election machine is overhyped, and that the Congress has tried to fix its own somewhat unreliable party machinery.
We set out to test the claims of both parties from Mehsana district in north Gujarat, traditionally a BJP stronghold, but now a battleground because of the Congress's alliance with caste leaders like Hardik Patel and Alpesh Thakor.
North Gujarat has a sizeable numbers of Patels, a dominant agrarian and business community and Thakors, an OBC or Other Backward Class community.
Our first stop was the Patel-dominated Vijapur assembly seat won by the Congress last time.
Except the Congress MLA has crossed over to the BJP.
But this time he wasn't given a ticket.
Instead, the BJP has fielded a prominent local businessman, Ramanbhai Patel, who runs a chain of Maruti car dealerships.
In Ramanbhai's campaign team, we meet Jitesh Patel, who says he heads a Shakti Kendra, the BJP's description for a committee at the Mandal level. (Mandal is an administrative unit, between district and village or town).
Patel tells us he has seven booths under him. "Each booth has a head in-charge of the voters list for that booth. There are 50 names on each page (of the voters list). Each page has a BJP page in-charge," he said.
On our request, he hands us a copy of booth heads under his watch - a typed list of names and cellphone numbers.
We dial the first six names on the list. Of the six, phone calls to three people were either not met with a response or they denied being booth heads; three people, however, replied, saying that they were indeed heading booth committees.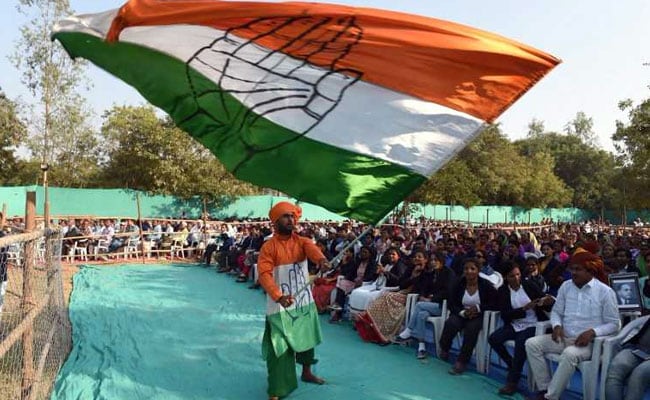 When we ask for the next level of coordinators - the page supervisors - the party says they will get back to us, since "everyone is in the field right now". They never did.
The Congress has fielded a party old timer Natha Patel from Vijapur. He is nowhere to be seen.
He tells us he is still in Ahmedabad, a two-hour drive away. His colleagues, however, claim he is "campaigning in nearby villages" and insist he will turn up soon.
Vijay Patel, one of his campaign managers, says the Congress has a base in every booth in the district, with 10 to 15 workers in each booth.
We repeat the same experiment, dialling the first six names on the list. Of the six, the phone numbers of four were non responsive; two, however, replied, saying that they were the heads of these booth committees and they did have people under them.
The Congress also handed us a list of supervisors of individuals pages, with names, cellphone numbers, and photographs.
Dialing the first six names on that list results in this: three of them answered positively and claimed they were page in-charges, but the other three didn't. One of them didn't answer the phone and the other two had no contact with the Congress at all.
By the time we were done, the Congress candidate, Natha Patel finally turned up.
We ask him why he told us he was in Ahmedabad when he was clearly nearby. "I lied. See, people keep calling, so to avoid them I said that I was away. I was campaigning in nearby villages," he said.
Our next stop: the Becharaji seat in north Gujarat which has a mix of Patels and Thakors.
Against the BJP's candidate, Rajni Patel, the two-time MLA, the Congress has fielded Bharat Thakor, a candidate chosen by its new ally Alpesh Thakor.
From the list given to NDTV by the BJP candidate, we dialled six booth supervisors.
Of the six, two did not answer. Of the remaining 4, two denied being booth in-charges, and two denied being assigned any booth.
When it came to the Congress however, we were not, given such a list despite assurances.
One of the reasons could be the adverse reaction to the selection of Bharat Thakor, a first-timer in politics. Thousands of Congress workers loyal to party hopeful Kiritbhai Patel, who was hoping to get the seat, protested at party headquarters in Ahmedabad earlier this week.
We made at least 20 calls to Bharat Thakor's team; on each occasion we were told that the list would be shared with us "in five minutes" and that "sir (Bharat Thakor) is in a meeting", hence the delay.
After almost five hours of trying, we gave up.