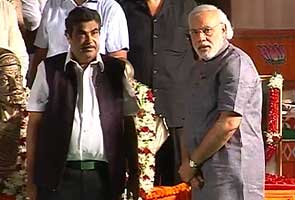 Surat:
In what could be the first sign of a possible truce between the two warring factions within the BJP ahead of the crucial Gujarat assembly elections, party chief Nitin Gadkari today campaigned for Chief Minister Narendra Modi, the man who RSS claims to be behind the campaign against Mr Gadkari's presidentship.
Setting aside speculations whether the Gujarat BJP wanted him to campaign for the next month's crucial assembly polls, the BJP president raised the pitch for a third successive term for Mr Modi at a rally in Surat today.
Showering praises on the Chief Minister's development model Mr Gadkari said, "The development of Gujarat is famous world over. People should vote for BJP and ensure development politics wins."
Taking a dig at the Congress-led UPA government for ordering CBI probe against "honest" police officers in Gujarat and sending them behind bars in connection with the encounter cases in Gujarat, Mr Gadkari said, "In Maharashtra, many police encounters have taken place. But, the Union Government has not ordered a probe, because Congress is in power in Maharashtra."
RSS ideologue MG Vaidya had earlier raised a political storm by alleging that Mr Modi could have been behind the anti-Gadkari campaign. Mr Vaidya wrote in a blog that Mr Modi hopes to be named the BJP's prime ministerial candidate and is worried that Mr Gadkari may stifle that likelihood. The BJP had, however, had rejected the reports.
The two leaders do not share the best of relations since the Mr Gadkari forced the re-induction of the Mr Modi's arch-rival Sanjay Joshi in the party. However, Modi later persuaded Joshi to resign from the national executive. Considering the recent allegations of corruption against Mr Gadkari, as well as the demands for his resignation, there was speculation over whether Mr Modi would want him to campaign in Gujarat. But sensing that the RSS was backing Mr Gadkari's leadership, Mr Modi appeared comfortable letting Mr Gadkari campaign for him.
Mr Gadkari has been facing allegations of corruption exposed by NDTV earlier and had split the party down the middle over his continuation as BJP president. He has survived so far thanks to the conditional support of the BJP's ideological mentor, the Rashtriya Swayamsevak Sangh or RSS, which had chosen him to be president in the first place. RSS ideologue and chartered accountant S Gurumurthy had also given Mr Gadkari a clean chit, having gone through the balance sheets and accounts of the BJP chief's Purti Group, which is at the centre of the corruption allegations.
The two-phase Gujarat elections will be held on December 13 and 17. The counting of votes will take place on December 20.
(With inputs from PTI)