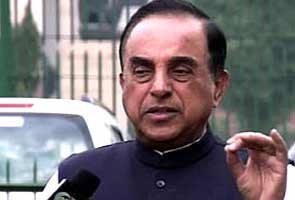 New Delhi:
Janata Party President Subramanian Swamy today dared Rahul Gandhi to take him to court.
"Either Rahul Gandhi or his lawyer sends a letter to me (or) I will throw of these papers in the dustbin without reading it. My advice to Rahul Gandhi is grow up, go to the court and file a defamation case. I will fight him there," Mr Swamy said.
Yesterday, Mr Swamy targeted Sonia and Rahul Gandhi raising questions over acquisition of a company that published the now-defunct National Herald newspaper to which Congress gave a loan of over Rs. 90 crore.
(Subramanian Swamy's allegations against Rahul Gandhi)
Mr Gandhi has threatened him with legal action. "Our attention has been drawn to your purported press conference of the afternoon of November 1. The allegations made by you are utterly false, entirely baseless and defamatory," Rahul Gandhi's office said in a letter to Mr Swamy.
It said, "Your action of calling a press conference is a motivated attempt for reasons, which one can easily discern." "We are committed to pursuing all legal actions against the scandalous abuse evident in your so-called press conference. Please be informed that we shall pursue the legal remedies open to us against the utterly motivated and irresponsible contents of your press conference.
"And that we shall pursue all proceedings that are available in law to ensure that an individual like you do not abuse the freedom to speak and write in utter violation of the equal important need in a civilised society to maintain the dignity of individuals and organizations and to abide by the law of the country," it said.
(Rahul Gandhi's response to Swamy's charges)
Mr Swamy alleges that Sonia and Rahul Gandhi had floated a Section 25 company called 'Young Indian' each with a share-holding of 38 per cent, which acquired Associated Journals, founded by late Jawaharlal Nehru, that published the National Herald and Quami Awaz. He said Associated Journals obtained an unsecured loan of over Rs. 90 crore from AICC which he claimed was illegal under Income Tax Act because a political party cannot give loans for commercial purposes.
(With inputs from Agencies)