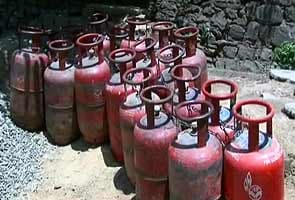 New Delhi:
The government has indicated it may roll back a major economic reform introduced in September - a limit of six subsidised cooking gas cylinders per year for households.
Oil Minister Veerappa Moily said in Parliament today, "We are considering it... we require few more days. We will consult the Finance Minister and Prime Minister before a final decision." His statement was in response to angry shouts from Opposition MPs demanding that the government reverse an "anti-people" policy.
The cap on subsidised cooking gas was cleared in September by the Prime Minister along with an increase in diesel prices and a green light for foreign supermarkets to set up shop in India. The reforms, seen as critical by investors and economists, forced the government into a minority with its main ally, Mamata Banerjee's Trinamool Congress, exiting the coalition in protest.
The new cooking gas policy has worried the Congress party - it was used by the Opposition in the recent election in Himachal Pradesh and will be a point of attack as other states choose their governments over the next few months. In states where the Congress is in power, governments have been asked to increase the limit from six to nine subsidised cylinders per year, with the states paying for the difference.
Next week, the government will face a crucial vote on its reforms in retail. The Opposition says foreign superchains like Wal-Mart will destroy cornershops and the livelihoods of thousands of small traders. The vote on Foreign Direct Investment of FDI in retail is a symbolic one, but will test the strength of the Congress party ahead of the general elections scheduled for 2014.
The government, however, has to balance its politics with economics. Mr Moily met senior officials of state-owned oil marketing companies Indian Oil, Bharat Petroleum and Hindustan Petroleum yesterday to discuss the impact of raising the cap on subsidized cylinders from six to nine per family. The ailing oil companies have reportedly made it clear that they will be unable to bear the burden of more subsidy and will need to be compensated in full for any increase in the number of subsidised cylinders.
Petroleum ministry sources say the onus is on the Finance Ministry to make good the additional loss. If the cap on subsidised cylinders increased by three, the additional burden on the oil firms will be Rs. 3,000 crore for the remaining months of the current fiscal year ending March 31, 2013. From the next year, when the full subsidy comes into effect, the additional burden will increase to Rs. 9,000 crore.
Already, the Centre has to pay Rs 30,000 crore to the state-owned fuel retailers forced to sell at cheaper government-set rates in the first half of the year. This payout is nearly 46 per cent less than the Rs. 55,400 crore the Oil Ministry had been seeking; it will be released after parliamentary approval is granted.
(With inputs from Reuters)