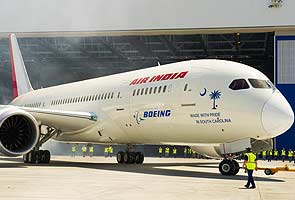 New Delhi:
On a day when more than 150 Air India pilots skipped work by calling in sick, Civil Aviation Minister Ajit Singh said that he believes "the time for national carriers is gone" and that the government "cannot and should not run any service industry."
However, Mr Singh, on NDTV's
Left, Right and Centre
, said that "even if we were to disinvest, first we have to bring it up to that level where somebody would be interested in investing in Air India."
(Watch)
He pointed out that closing down the national airline, which has guzzled thousands of crores in bailout packages, would have serious repercussions, including a possible hike in air fares. He also said that Air India has 17% of passenger traffic currently.
Five international Air India flights were cancelled as a result of the strike. The furious management has derecognized a major union - the Indian Pilots Guild and sacked ten pilots, including four office-bearers of the guild. The union's offices in Mumbai and Delhi were also sealed. Medical teams were sent to the homes of some of the pilots who had reported sick.
Air India operates about 50 international flights a day. A month ago, the government cleared a 30,000 crore bailout for the airline. Many of the issues for pilots have stemmed from the merger five years ago of Air India with the government-owned domestic carrier, Indian Airlines.
Mr Singh said that he accepts that there are genuine concerns among pilots post the merger such as protecting their seniority or parity in pay. But he said that these issues are already being studied and that the pilots must work through them with the management. "They have to realize this is their airline...their progress, their jobs depend on them...if they want to shut down Air India, they can do it very easily...all employees should feel they have a stake in its success," he said.
There are two reasons for the latest strike. Pilots say the management has failed to follow agreed-upon timelines for promotion. They also say that the 500 pilots that operate international flights should have exclusive rights to be trained to fly the Boeing Dreamliner, which is scheduled to join the fleet this month.
The pilots at Air India say pooling them with Indian Airlines pilots to fly the Dreamliner will affect their career prospects.