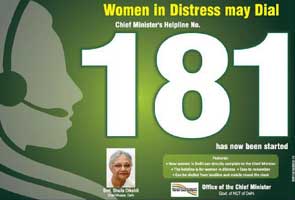 New Delhi:
A month after releasing the three-digit emergency number for women in Delhi, the government today said it will make available the '181' women helpline number to all states of the country.
"We will give single emergency number 181 to women across the country," Telecom Minister Kapil Sibal told reporters in Delhi.
According to sources, Mr Sibal is expected to write to all chief ministers about the ministry's decision to allocate the three digit number '181' to all states so that it can be made a national helpline for women.
After allocation of the emergency number, the state governments will be required to set up their call centers.
"The Telecom Department will make available the number to all states, which are than required to set up call centers so that the number becomes operational across the country," sources added.
Amidst nationwide uproar over brutal gang-rape of a 23-year old paramedic student in the national capital, the Telecom Ministry in December released a three-digit number, 167, for women helpline in Delhi.
The number, however, was changed to '181' as the ministry felt that it would be easier to recollect.
Delhi Chief Minister Sheila Dikshit had requested to allot a three-digit phone number for helping women in distress.
This was the first three-digit number to have been allotted in two years by the ministry.