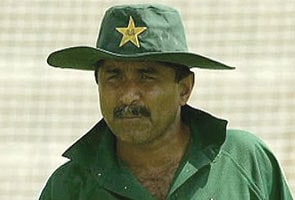 New Delhi:
The government of India has defended the decision to grant visa to former Pakistan cricketer Javed Miandad. The Pakistan Cricket Board (PCB) official is scheduled to arrive in India on January 5 and will watch the final match of the ongoing cricket series between India and Pakistan in New Delhi on January 6.
The decision to grant him visa is being criticised by leaders from the BJP and the Shiv Sena who cite his ties with underworld don Dawood Ibrahim. Mr Miandad's son Junaid is married to Mahrukh, the daughter of Dawood Ibrahim, who is wanted in India in connection with the 1993 Mumbai case.
"He is a well-known cricketer. His visa application papers were in order and valid and that is why the government has decided to give him visa," Minister of State for Home, RPN Singh, told reporters yesterday. When asked if Mr Miandad was not on India's "negative list", Mr Singh said "no, nothing like that". "He was given visa when his visa papers were found valid," he said.
But dissatisfied with the response, the BJP and the Shiv Sena have lashed out at the government. "This country loves the game of cricket but does not love terrorists. Dawood Ibrahim has been the mastermind of several terror acts. Pakistan has refused to hand him over to India despite several efforts. India should not allow any relative of Dawood to come to India," BJP Vice-President Mukhtar Abbas Naqvi said.
His party maintained that Pakistan should hand over Dawood before Mr Miandad is allowed to visit India. Dawood had allegedly masterminded the 1993 Mumbai blasts. He fled to Pakistan after the attacks and is said to be based there.
Meanwhile the Shiv Sena, which had opposed renewing of cricketing ties with Pakistan, said the whole country should condemn the move. "He's a relative of Dawood Ibrahim and you lay out a red carpet for him.... The whole country should oppose it," Sena MP Sanjay Raut said.
Due to Mr Miandad's family ties with India's most-wanted terrorist Dawood, there had been reports before a series in 2005 that any requests for a visa by the batting great could be turned down by the Indian government.
When asked about his reaction over the controversy, External Affairs Minister Salman Khurshid said, "It's a decision that has been taken by the Home Ministry. And I am sure they would have taken inputs from all concerned agencies and from our mission in Pakistan. I am sure they would have followed all procedures."
The Pakistan Cricket Board has so far maintained silence over the issue. Mr Miandad is the Director-General, cricket in the PCB.