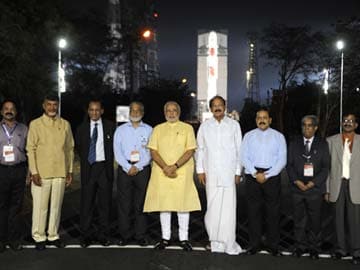 Chennai:
Prime Minister Narendra Modi, who is on a visit to Sriharikota to witness the launch of ISRO's PSLV C-23 rocket, on Sunday said his government is committed to give impetus to the country's space programme.
A few hours after he landed at the spaceport, about 100 kilometers from Chennai, Mr Modi tweeted, "Will be in Sriharikota this evening & tomorrow morning for the launch of PSLV-C23. Will meet ISRO scientists during my visit. Looking forward to it."
In another tweet few minutes later, he added, "Our Government is committed to give further impetus to our Space Programme."
A senior ISRO official told PTI from Sriharikota that the PM was being taken to the launch pad to witness the PSLV-C23 launch vehicle and GSLV Mk III Vehicle Assembly Building and would be briefed by scientists.
Meanwhile, ISRO officials said the countdown was progressing smoothly and Nitrogen Tetraoxide (N2O4) Propellant filling operation of Second Stage (PS2) of PSLV-C23 has been completed at 6.30 pm on Sunday.
PSLV C23 is scheduled to lift off from Satish Dhawan Space Centre in Sriharikota at 9.52 am on Monday with five foreign satellites from four countries.
Besides its main payload of 714 kg weighing French Earth Observation Satellite SPOT-7, PSLV C23 would carry 14 kg AISAT of Germany, NLS7.1 (CAN-X4) & NLS7.2 (CAN-X5) of Canada each weighing 15 kg and the 7 kg VELOX-1 of Singapore.
ISRO has so far launched 35 satellites from 19 countries around the globe - Algeria, Argentina, Austria, Belgium, Canada, Denmark, France, Germany, Indonesia, Israel, Italy, Japan, Korea, Luxembourg, Singapore, Switzerland, The Netherlands, Turkey and United Kingdom.
A PMO release said that Mr Modi on Sunday visited the First Launch Pad at Sriharikota.
The Prime Minister also visited the GSLV-Mk III Vehicle Assembly Building and was briefed there by senior scientists, the release said.
The Chief Minister of Andhra Pradesh, N Chandrababu Naidu, Parliamentary Affairs Minister Venkaiah Naidu, and the Minister of State in the Prime Minister's Office, Jitendra Singh were also present.
Earlier, K Radhakrishnan, Chairman, ISRO, gave a brief presentation to the PM on India's space programme, in the presence of senior scientists.