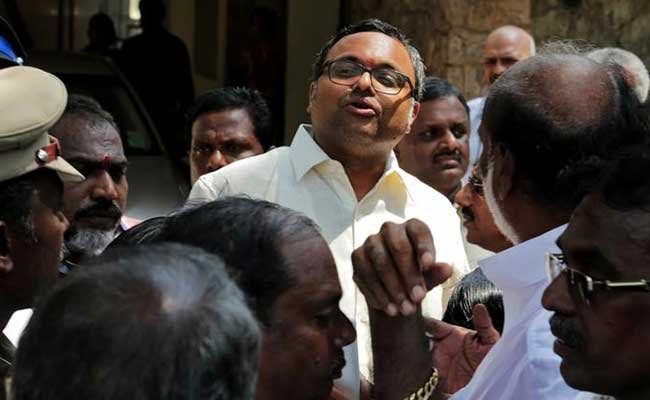 Highlights
Supreme Court stays Madras High Court order staying look-out circular
Karti Chidambaram has to join investigation, said Supreme Court
He is being probed for corruption and foreign exchange violation cases
New Delhi:
Karti Chidambaram, the son of former Union Minister P Chidambaram, must join investigation in the corruption case in which he has been named, the Supreme Court said today. The businessman, who is also a Congress member, must appear before the Central Bureau of Investigation for questioning and cannot travel abroad, the court said. The matter will be heard again on Friday.
Karti Chidambaram -- who claims the allegations against him are politically motivated -- had been summoned twice by the CBI for questioning, on May 18 and then in May 21. He had asked the agency for a reprieve, saying he had approached the Madras High Court challenging the case against him and the CBI should wait for the verdict. His lawyer had also argued that when he got CBI notice for the first time he was abroad.
On August 10, the high court had put a freeze on the Centre's lookout notice, which would have prevented Karti Chidambaram from leaving the country. Today's order from the top court cancels the high court's order.
Mr Chidambaram, the top court said, will have to participate in the investigations - "be it in Chennai or Delhi".
In response to his submission that he had no intention of going abroad, Chief Justice JS Khehar remarked, "In the past, we have made the mistake of letting people go abroad, but they never returned. We are not willing to make that mistake again".
The agency contends that Karti Chidambaram received kickbacks amounting to 3.5 crore from a private company, the INX media, in exchange for allowing them to break foreign investment regulations.
This was done through "influence in the finance ministry" while his father, P Chidambaram, was the finance minister, the investigators say.
The former minister had denied the allegation. "I had never allowed any family member to speak to me or to any officer of my ministry on any official matter," he had said.
INX Media -- which was run at the time by Peter Mukherjea and his wife Indrani Mukherjea -- had approval only for foreign investment worth Rs. 4.62 crore. But it had managed to raise around Rs. 305 crore. The Mukerjeas are currently in jail allegedly for the murder of Indrani Mukerjea's daughter Sheena Bora.