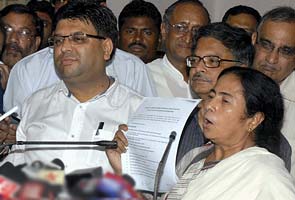 Darjeeling:
West Bengal government and the Gorkha Janmukti Morcha (GJM) have claimed breakthrough in their talks over the vexed Gorkhaland issue, saying that an agreement has been reached between the two sides, which will allow for peace in the region after years of agitation and violence.
A beaming Chief Minister Mamata Bannerjee announced on Tuesday that the West Bengal government has come to an agreement with GJM, the party leading the agitation for a separate Gorkha state.
Government sources say
A new Hill council, with elected representatives, will be formed, to govern the semi-autonomous hill region in Bengal
Another committee will look into the addition of Gorkha dominated areas from the plains of Jalpaiguri, into this new Hill Council
The government is also positive about transferring land records in the entire area to the jurisdiction of the new hill council
"We will have a tripartite meeting with the Centre and the Gorkha Jan Mukti Morcha within a week to firm up the agreement. After that I will go to Darjeeling and announce the deal myself," said Ms Banerjee.
GJM president Bimal Gurung has said he is very happy with the outcome of the talks. He said he will wait for the leaders in Kolkata to come back to Darjeeling and brief him on the talks, and then for the Centre and state government to come to Darjeeling and announce the agreement here.