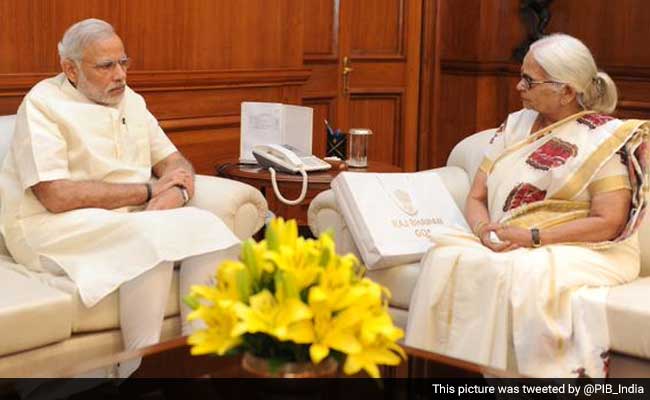 New Delhi:
Goa Governor Mirdula Sinha today met Prime Minister Narendra Modi and Home Minister Rajnath Singh and discussed projects for social development.
Terming it as a "courtesy call", a statement quoting Ms Sinha's Officer on Special Duty Ansuhman Abhishek said the Prime Minister and the Governor briefed them about various innovative programmes in the state.
As the Ambassador of Swachch Bharat Abhiyan, she discussed activities taken by her in Goa and in other parts of India.
In her meeting with Rajnath Singh, Ms Sinha also mentioned activities regarding Swachh Bharat Abhiyan taken by her as Ambassador of Swachhta Mission.
Yesterday, the Governor had met Finance and Information & Broadcasting Minister Arun Jaitley and Union Minister of Urban Development M Venkaiah Naidu and briefed them on the political and social situation in Goa.
While speaking to Mr Jaitley, she advised him to promote films and serials on social and cultural themes and make it productive for society.
She also informed them about various innovative programmes started in Goa Raj Bhavan by her like the 'Chand ke Sath Sath' to save energy; 'Sacchi Dosti' to bridge gap in students from public and private schools.
A writer in Hindi Literature, Ms Sinha, also penned a pledge and a song for children for Swachh Bharat Abhiyan to inculcate awareness for cleanliness.