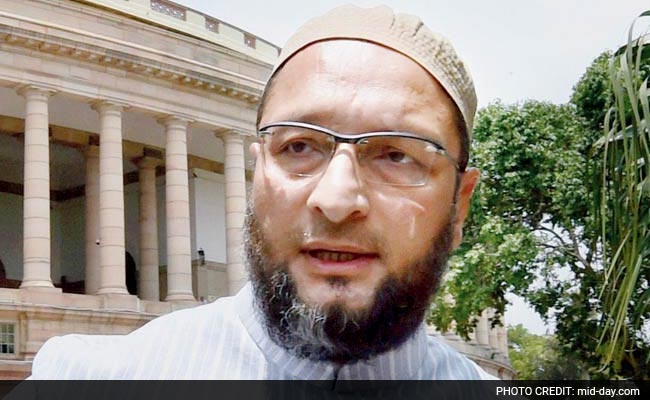 Highlights
Asaduddin Owaisi doesn't deserve to stay in India: Shiv Sena minister
Won't chant 'Bharat mata ki jai,' said Mr Owaisi in a speech on Sunday
RSS chief had said every Indian should chant 'Bharat mata ki jai'
The Shiv Sena wants the All India Majlis-e-Ittehadul Muslimeen (AIMIM) president, Asaduddin Owaisi, to be sent to Pakistan for refusing to chant 'Bharat mata ki jai'.
Sena minister Ramdas Kadam raised this demand yesterday, on the sidelines of the Budget Session of the state legislature. "Owaisi doesn't deserve to stay in India because he does not respect the country that has given him so much. He should go to Pakistan or we will drive him out of this country," said Kadam, adding that there was no point in feeding such 'green serpents' in India. "I will ask the CM to inquire into this," he said, reacting to the speech Owaisi had made the day before on Sunday.
The BJP also responded quickly and initiated a probe into Owaisi's Sunday speech at Udgir near Latur.
The AIMIM chief was commenting on the RSS chief Mohan Bhagwat's demand that every Indian should chant 'Bharat mata ki jai'. "But I will never say 'Bharat mata ki jai' because the Indian constitution has not made this slogan mandatory. I will not chant the slogan even if they put a knife to my neck," Owaisi had declared.
In his speech, Owaisi also slammed the encounter of alleged LeT operative Ishrat Jahan and extended support to the families of Muslim youth who have either been killed in encounters or tried for alleged terror activities in Maharashtra.
Finance Minister Sudhir Mungantiwar prayed that the Almighty Allah grant Owaisi some sense. "I have asked the Latur district administration to conduct a probe into Owaisi's speech. Nobody is entitled to make such statements in the name of freedom of speech."
'Can't Make Us Leave'
However, AIMIM legislator Waris Pathan hit back at the Sena for the Pakistan comment.
"Who is the Sena to send our leader to Pakistan or ask him to go to Pakistan? We are citizens of this country and nobody can threaten us to leave this country," he said.
On the other hand, NCP MLA Jitendra Awhad, who helped Ishrat Jahan's family fight for justice, said both the AIMIM and the BJP were working hand-in-glove to polarise vote banks. "They create such controversies for political advantage. There is nothing much to this entire episode," he said.
(This story has not been edited by NDTV staff and is auto-generated from a syndicated feed.)