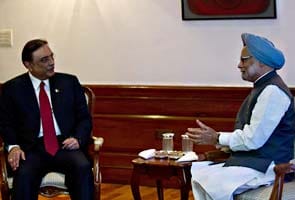 New Delhi:
Pakistan President Asif Ali Zardari today wrote to Prime Minister Manmohan Singh, welcoming the revival of cricketing ties between the two countries. The Board of Control for Cricket in India (BCCI) has invited Pakistan to play three one-dayers and two Twenty20 matches in December-January, the first bilateral contests between the arch-rivals in five years.
The cricket board is awaiting the government's clearance for the series.
Mr Zardari wrote in his letter that he is 'glad' that cricket matches will resume between India and Pakistan, saying, "Matches will be strong confidence building measure and add to a positive atmosphere."
(Read letter)
"Matches will encourage people-to-people contact," he added.
The rivals have not played a series since Pakistan's tour of India in 2007, after cricket ties were snapped following the 2008 terror attacks on Mumbai.
Mr Zardari had reportedly spoken about the importance of bilateral ties when he made a short visit to India earlier this year and the cricket matters were further discussed between the foreign secretaries of both countries in New Delhi.