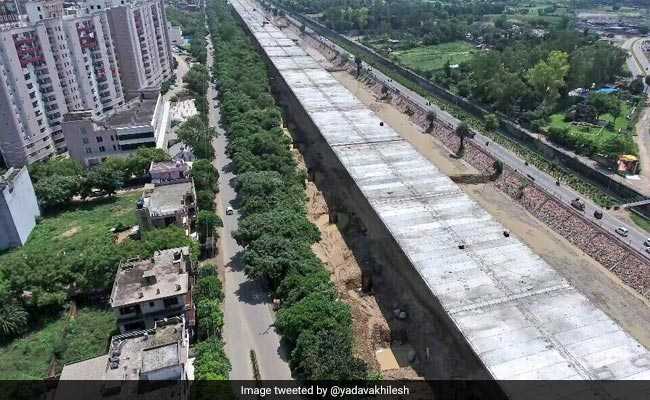 New Delhi: Uttar Pradesh Chief Minister Yogi Adityanath inaugurated the Ghaziabad elevated road on Friday. He was accompanied by Minister of State for External Affairs General VK Singh. The project, which was started by the Samajwadi Party, missed several deadlines in the past as there was delay in clearances. The Ghaziabad elevated road's construction began in November 2014. It will connect UP Gate on the Delhi-Ghaziabad with Raj Nagar Extension in the Uttar Pradesh city, drastically cutting travel time and enhancing commuting comfort. The Ghaziabad elevated road opens for commuters today.
10 Facts About The Newly-Opened Ghaziabad Elevated Road
The Ghaziabad elevated road will connect commuters from the National Highway-24 (NH-24) directly to Raj Nagar Extension and towards Meerut, providing major relief to the commuters travelling to Meerut.
It is estimated that around 4,000 vehicles would ply on the elevated road every hour.
The Ghaziabad elevated road has been designed to enable fast traffic with an average speed of 80 km per hour, allowing direct and non-stop vehicular movement.
The cost of the Ghaziabad elevated road project has been estimated at Rs 1,147 crore.
The project was started by the Akhilesh Yadav-led Samajwadi Party government, which was voted out of power in March last year.
Officials claim the Hindon elevated road project is India's longest elevated road at a length of 10.5 kilometres.
The Ghaziabad elevated road will shorten over an hour-long journey from Ghaziabad to Delhi to barely 18-20 minutes.
The Ghaziabad elevated road's construction began in November 2014. It took three years and four months to complete the six-lane road.
The Ghaziabad elevated road is built on 227 single pillars.
For the initial days, only two and four-wheeled vehicles would be allowed on the elevated road, say reports.
For the latest News & Live Updates on Election Results from each assembly constituency in Madhya Pradesh, Rajasthan, Mizoram, Chhattisgarh, Telangana, like us on Facebook or follow us on Twitter for updates.