New Delhi:
Geeta, who accidentally crossed over to Pakistan
as a child, returned to India today after 13 long years but has not found her family yet. She failed to recognise the family from Bihar that claimed that she was their lost daughter.
"Geeta met the Mahato couple today, but she could not recognize them. We have taken blood samples. We will get DNA tests of whoever claims that she is their daughter," Foreign Minister Sushma Swaraj said in Delhi, seated next to a beaming Geeta, dressed in a red and white
salwar kameez
.
The 23-year-old, who is hearing and speech challenged,
arrived at the Delhi airport to a big welcome
this morning. Among those waiting to meet her was Janardhan Mahato from Bihar,
who she had earlier this month identified as her father
from one of many photographs sent to her by the Indian High Commission in Islamabad.
But Geeta did not recognize him or the three men who claimed to be her brothers.
"We will wait for the DNA test results. Because she has refused to go with the Mahatos and said they are not her parents, she will stay at a home in Indore," said Ms Swaraj, who had earlier tweeted, "Welcome home our daughter".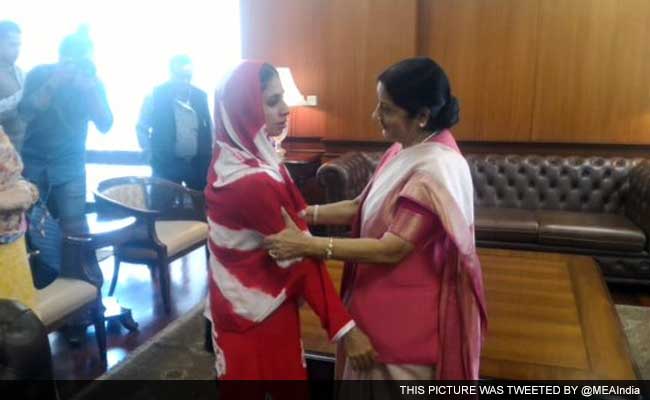 The disappointment has apparently not dimmed Geeta's excitement at returning home.
"I am very happy. In Pakistan I used to feel miserable," she told reporters. She has resolved to stay in India and work.
Mr Mahato claims the young woman is his first born Heera, lost in a fair in 2004.
Many details that he gave about his lost daughter don't add up; Geeta has denied that she was married and has a child.
#GeetaComesHome top trended on Twitter as she landed in Delhi.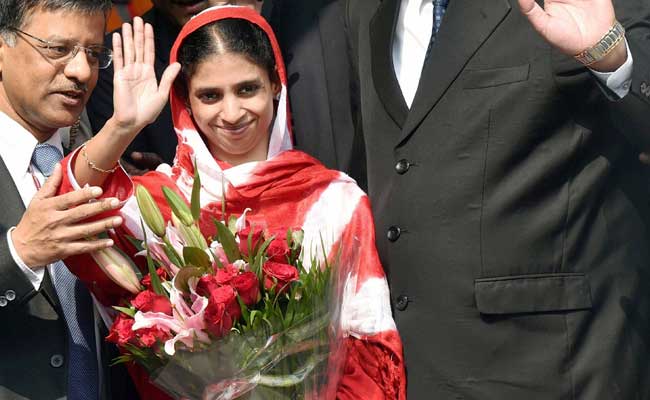 In Karachi, Geeta was given an emotional farewell this morning as she boarded a Pakistan International Airlines flight. Her foster family in Pakistan, the Edhis, accompanied her to Delhi.
Geeta was about 10 when she crossed from India into Pakistan. Exactly how is not clear but Geeta mimes an explosion and shows how she ducked and ran before being caught by armed men, according to Reuters.
Her story has been compared to the Salman Khan blockbuster "
Bajrangi Bhaijaan
", about a little girl from Pakistan stuck in India. The actor plays Bajrangi, a man who made it his mission to take the girl to her family in Pakistan.
Geeta broke down on watching the film and yearned for home,
something she shared with actor Salman Khan on NDTV
. As Geeta's story gained fresh media attention after the film, the Indian government vowed to bring her back in a movie-style happy ending.