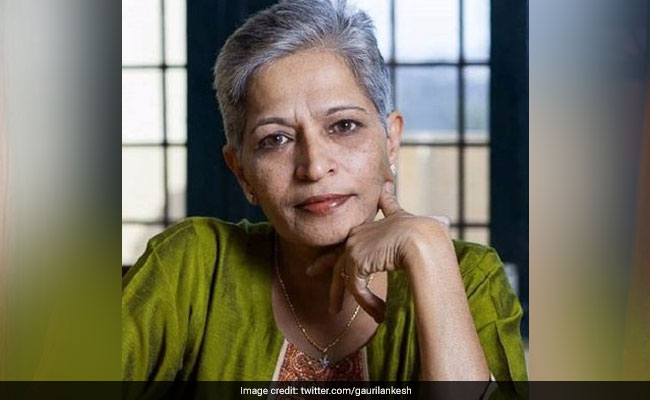 Bengaluru:
Activist-journalist Gauri Lankesh's murder case is in the final stage of investigation and a chargesheet will be filed in two months, a senior SIT official probing the murder said on Wednesday.
The Special Investigation Team, under the leadership of Additional Commissioner of Police (West) BK Singh, has arrested 12 people in connection with the killing of Gauri Lankesh, known for her strong anti-Hindutva stand, on September 5 last year.
Some of the people arrested in the case are allegedly linked to Sanatan Sanstha and its allied outfit Hindu Janajagruti Samiti.
"The case is in final stage of investigation. We will file a chargesheet in the case in two months," Investigating Officer MN Anucheth said.
Ms Lankesh was shot dead on the night of September 5, 2017, from close range in front of her Rajarajeshwari Nagar house around 8 p.m.
The SIT got a breakthrough in its probe when a Gujarat-based forensic lab confirmed that Parashuram Waghmare shot and killed her. The SIT, formed by then chief minister Siddaramaiah, has arrested suspected mastermind Amol Kale and shooter Parashuram Waghmare among others.
Sanatan Sanstha has claimed that those arrested were not its members.
Investigations revealed that Ms Lankesh was among 26 people including Prof KS Bhagwan, Girish Karnad and Chandrashekar Patil on the hit list of rightwing extremists.
Speaking to PTI on Tuesday, Gauri Lankesh's sister Kavitha said the rightwing outfit Sanatan Sanstha should be treated like any other terrorist organisation if its involvement in killings of rationalists, including that of Narendra Dabholkar, was proved.
Kavitha Lankesh said she was happy with the progress made by SIT, saying the investigating agency has made arrests and also guided CBI and other agencies to nab the killers of rationalists Govind Pansare and Dabholkar, besides progressive scholar MM Kalburgi.
Gauri Memorial Trust and her supporters are organising a series of events to mark the first anniversary of her death.
They are also planning to stage 'Raj Bhavan Chalo' march and demand a ban on Sanatan Sanstha.
In a counter move, members of Hindu Vidhidnya Parishad, some of them lawyers fighting for the accused, criticised the SIT for invoking Karnataka Control of Organised Crime Act against the accused.
"We dare SIT to file a chargesheet. The trial should begin as soon as possible. KCOCA was invoked to please the Leftists ahead of Gauri's first death anniversary on September
5," NP Amrithesh, an advocate, told reporters Tuesday.
He alleged that the chargesheet against the first accused Naveen Kumar was filed in haste ahead of elections in the state.
"The so-called confessional statements of accused recorded by police under duress have no legal sanctity. SIT has used third degree on the accused and this needs to be probed," Mr Amrithesh said.
HVP president Virendra Ichalkaranjikar alleged the invocation of KCOCA against 12 people is unwarranted and politically motivated. He alleged the government did not invoke KCOCA in Abid Pasha's case.
Abid Pasha is a member of Popular Front of India, who had confessed to have killed eight RSS activists in Karnataka in 2016, he said.
"Why did the government not appoint an SIT to probe the killing of RSS workers?" Mr Ichalkaranjikar questioned.
Hindu Janajagruti Samiti and affiliated Hindu outfits are planning to stage a protest march against attempts to portray Sanatan Sanstha as a terror outfit.