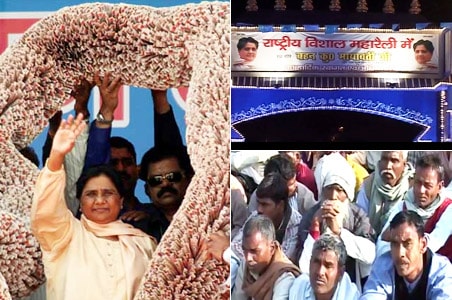 Lucknow:
Caught in the eye of a growing storm over her gigantic money garland, Uttar Pradesh Chief Minister Mayawati, has called a meeting on Wednesday of all her party MPs, MLAs and ministers.
(Read & Watch: Maya's mala worth Rs 22.5 crore?)
According to sources, the garland controversy, the bees at her rally and the low turnout are likely to dominate the agenda.
(Read: Bees at Mayawati rally: Police to investigate)
The emergency meeting has been called as the Income Tax department probes the garland of thousand-rupee notes which BSP workers gifted her during Monday's rally in Lucknow, organised to mark the party's 25th anniversary.
(Read: Income Tax inquiry into Mayawati's garland)
The department is reportedly collecting photographs and video footage of the garland from various sources, including newspapers and TV channels that covered the event.
Initial inquiries revealed that the garland was woven at the Lucknow residence of a senior BSP leader by artistes from Karnataka who had arrived there a month in advance.
(In Pics: Lucknow painted blue for Mayawati's mega rally)