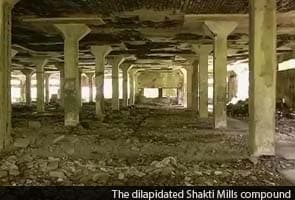 Mumbai:
A woman from Mumbai has complained that she was raped at the Shakti Mills compound in the city by five men in July. Three of her assaulters, she has alleged, are the accused arrested for raping a young photographer there last month.
The police has registered a case based on the new complaint. The woman says she was gang-raped at the deserted textile mill on July 31 while she was passing through the building with a friend. Of the two accused still on the run, one has reportedly been identified.
On August 22, a 22-year-old photographer and her male colleague were on assignment at Shakti Mills when they were accosted by a group of men. The photographer was then gang-raped while her colleague was tied up with belts.
She left hospital last week.
Of the five men arrested for the gang-rape, one is a juvenile. According to sources, he was not among the group who raped the woman from Mumbai in July. The police says the others have confessed to raping two other women at the same location.
Get Breaking news, live coverage, and Latest News from India and around the world on NDTV.com. Catch all the Live TV action on NDTV 24x7 and NDTV India. Like us on Facebook or follow us on Twitter and Instagram for latest news and live news updates.