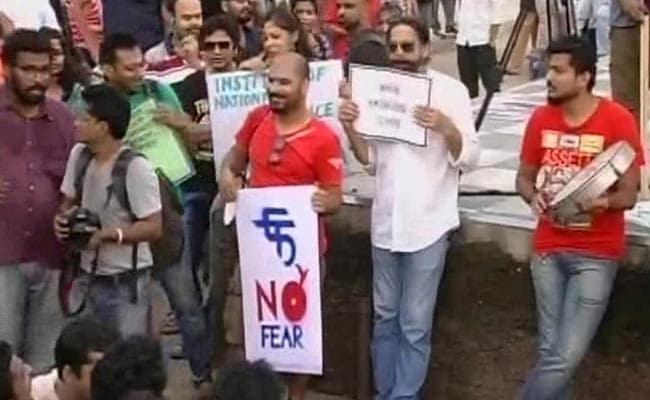 New Delhi:
The deadlock remains even after a delegation of students and alumni members of Film and Television Institute of India (FTII) met with union Information and Broadcasting minister Arun Jaitley this evening.
FTII students have been demanding the removal of Gajendra Chauhan as the chairman of the country's premier film training institute.
After the meeting with Mr Jaitley, Oscar-winning sound engineer and an alumnus of FTII, Resul Pookutty said, "He has given us a lot of assurances, but the core issue why the students went on agitation regarding the present society has not been satisfactorily met."
The delegation has also given a five point solution to the minister who has assured that they will be looked into, but no compromise formula could be agreed upon.
Before meeting Mr Jaitley, the delegation had met officials from the ministry to break the deadlock. Protests by students have entered the 22nd day today over their demand to remove BJP members from the governing council of the institute.
Protests have been held in Pune, Bangalore and Delhi, while the students have not attended any classes in almost three weeks.
Mr Chauhan says he is willing to talk to anyone to bring students back to the classroom, "I'm requesting students to sit with me or ministry and look out for a solution," he said.
Earlier in the day, over 200 students were detained by Delhi police after they gathered outside the ministry's office with placards saying "stop saffronisation of FTII".
Students from Jawahar Lal University (JNU), Delhi University and Delhi Technological Institute too joined the protests with FTII students at Shastri Bhavan this afternoon.
An FTII student, Kisley said, "FTII is being saffronised and people close to the BJP are being appointed as heads of cultural and art institutions."
The appointment of Mr Chauhan as chairman, best known for playing the role of Pandava king, Yudhishthir on TV serial Mahabharata, has resulted in wide-spread criticism because of the actor's perceived lack of credentials and his affiliation with the ruling BJP.