Paris:
Accepting an invitation from Prime Minister Narendra Modi, new French President Emmanuel Macron on Saturday said that he will be visiting India by the end of this year. "I will be travelling to India towards the end of this year and convene a meeting of the world solar alliance,"
Mr Macron said while addressing the media with Prime Minister Modi
after bilateral talks. He said that both he and PM Modi were convinced that India and France can do a lot together in the area of environmental transition and climate change.
At the initiative of India, PM Modi and then French President Francois Hollande had jointly launched the International Solar Alliance (ISA) in Paris at the UN Conference of Parties (CoP) on climate change in Paris on November 30, 2015. PM Modi said today that go
"above and beyond" the Paris Accord
to combat climate change.
The agreement signed by 195 countries in the French capital in 2015 "can protect future generations and give new hope," the prime minister said.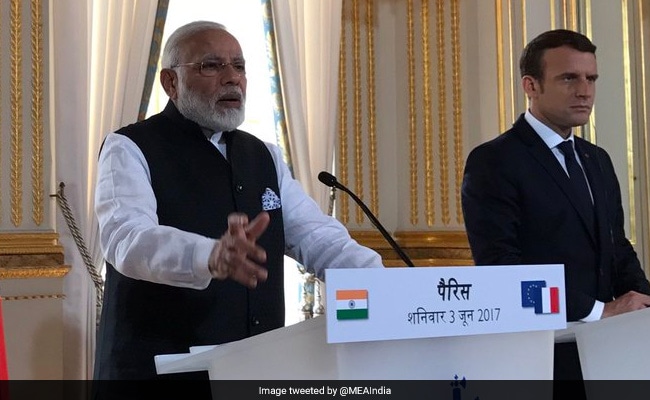 The Solar Alliance is conceived as a coalition of solar resource-rich countries to address their special energy needs and provide a platform to collaborate on dealing with the identified gaps through a common, agreed approach.
It is open to all 121 prospective member countries falling between the Tropics of Cancer and Capricorn.
Mr Macron's remarks came even as US President Donald Trump pulled his country out of the Paris climate agreement.
On his part, PM Modi thanked Macron for accepting his invitation.
PM Modi arrived in Paris on Friday on the fourth and final leg of his six-day, four-nation tour of Europe.
(This story has not been edited by NDTV staff and is auto-generated from a syndicated feed.)
Get Breaking news, live coverage, and Latest News from India and around the world on NDTV.com. Catch all the Live TV action on NDTV 24x7 and NDTV India. Like us on Facebook or follow us on Twitter and Instagram for latest news and live news updates.