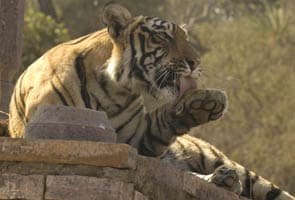 There's good news for wildlife conservation efforts in Maharashtra. The state has notified four new wildlife sanctuaries in Vidarbha, areas that will now get legal protection against any commercial activities.
Addressing the media, Chief Minister Prithviraj Chavan said, "There are a large number of tigers in reserves like Tadoba (Andhari Tiger Reserve). Many do move from one forest to another. That's why tiger corridors are crucial. These new sanctuaries will help in strengthening tiger corridors."
Spread over a 60 sq. km area, the new Bor sanctuary is an important corridor that connects the Tadoba and Pench Tiger Reserves. Navegaon Sanctuary will mean an additional 122 sq. km area apart from a National Park of the same name. New Nagzira further extends 151 sq. km area near the Nagzira Sanctuary. And Karandla with 189 sq. km area is a crucial link between Tadoba Tiger Reserve and the Navegaon Park.
Executive Director of the Wildlife Protection Society of India, Belinda Wright says it's a proactive step other states could do well to follow. "They (wildlife) cannot breed, live or have a future without corridors. You need corridors for individuals to go from one area to another. So this is an absolute critical need for our wildlife at the moment and if it isn't done now, it will never be done."
Dipankar Ghose, Director of Species, Conservation Programme with WWF told NDTV, "It's always good to have extra space for wildlife which can act as a corridor or as a buffer for the existing tiger habitat."
With these new sanctuaries, Maharashtra has added over 500 sq. km to its protected forest cover. That's almost as good as adding another Tadoba reserve in terms of the area.
Experts also feel that legal protection for forest cover combined with people's participation is the best way forward to make conservation a reality, a real possibility if governments and citizens work together keeping their common goal in mind.

(Prasad Kathe contributed to this story)