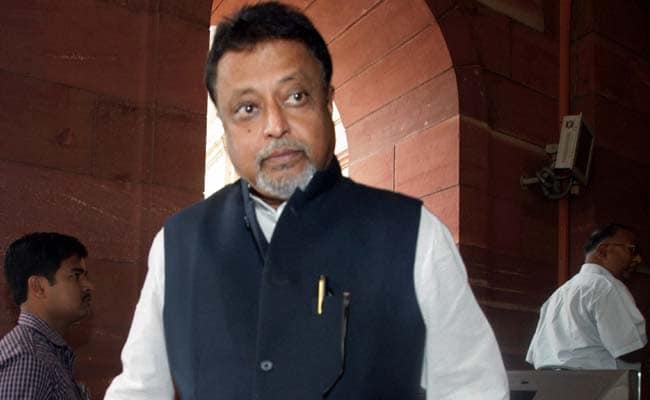 Kolkata:
The BJP is likely to induct former Trinamool Congress (TMC) leader Mukul Roy into the party by the first week of November, a senior BJP leader has said.
The announcement of his joining the party is expected to be made after BJP general secretary and West Bengal in-charge, Kailash Vijayvargiya meets party president Amit Shah this week, BJP party sources said. "If everything goes well, Mukul Roy will join our party within the first week of November. His joining can take place either in Kolkata or in New Delhi," a senior BJP leader, who is privy to the developments, was quoted by news agency PTI.
Mr Roy, however, could not be reached for a reaction.
The state BJP unit had cast its reservations on his induction, but later gave up its reservations due to the keenness of the leadership, the sources said.
Mr Vijayvargiya has played a key role in convincing the BJP leadership about the positive impact of inducting Mr Roy, who is known for his organisational acumen, into the party, they said. "Given the lack of good organisers in the state BJP unit, Kailashji was positive about Roy from the very beginning. He felt that inducting Roy would help the party in the rural polls in 2018 and Lok Sabha polls in 2019," another BJP leader said.
"Roy's organisational acumen and ability to conduct polls has earned praise from everybody," the leader said.
State BJP president Dilip Ghosh had recently lauded Mr Roy as a "good organiser" and said that he had made a "big contribution" to the growth of the TMC in Bengal.
The indication that Roy is likely to join the BJP came when he was invited for the birthday celebration of BJP national secretary Rahul Sinha that will take place on October 25.
Mr Roy, who was once the second in command in the Trinamool Congress after its chief Mamata Banerjee, had earlier this month resigned from the Rajya Sabha and quit the party.
Mr Roy was last month suspended from the TMC for six years for indulging in anti-party activities after he announced that he would quit the party.