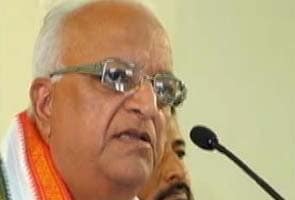 New Delhi:
Former minister Santosh Bagrodia raised eyebrows last week when he was spotted at the wedding reception of CBI director Ranjit Sinha's daughter. Mr Bagrodia's role is being probed by the CBI in the coal allocation scam. The CBI says Mr Bagrodia, who was the minister of state, coal, between 2006 2009, came uninvited to the wedding reception. Congress leader Matang Singh, who is an accused in a banking fraud case, was also seen at the wedding reception, accompanying another invitees.
According to an FIR filed by the CBI, Mr Bagrodia, who was a member of the screening committee, allowed a coal block to be allocated to AMR Iron and Steel Private Limited despite a meeting with officials from the company, who had disclosed to him that they already own five coal blocks. The CBI's FIR says AMR's directors lied about crucial information in their application for coal blocks- they inflated the net worth of AMR and did not disclose that the company had already been given five coal blocks, which was disclosed to the Mr Bagrodia in a meeting in 2008, but no inquiry followed.
Mr Bagrodia, however, has not been named an accused in the case yet though the CBI's statement indicts him without naming the former minister. The CBI is yet to file a chargesheet in the case.
The coal inquiry is especially sensitive for the government because for some of the years under scrutiny, the Prime Minister held direct charge of the Coal Ministry. That has led to the opposition demanding his resignation.