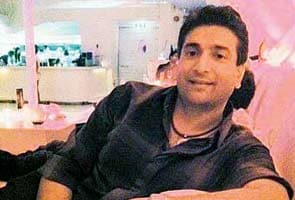 Mumbai:
Former aide of underworld don Chhota Rajan, Santosh Shetty, currently in the Mumbai Police's custody, has spilled enough beans to ensure that his mentor-turned-enemy is implicated, cops said.
In his statement to the Mumbai Crime Branch (CB) officials, Shetty, who was arrested in August following his deportation from Bangkok, has exposed Rajan's nefarious personal and business intrigues across several countries, in which Shetty confessedly played a big part. The statement gives the minutest details of Rajan's escape from Bangkok and his journey thereafter to Tehran and Indonesia.
In a startling revelation, Shetty said that the military played a major role in Rajan's escape from Bangkok.
The military personnel aided the transportation of Rajan till the Cambodian border. From there Rajan was picked up in a chopper by then governor of Cambodia and ferried to a safer hideout in Siem Reap, he said.
Shetty also revealed that during Rajan's stay in Tehran, he fell in love with his caretaker, who has borne him a son.
He spoke of Rajan's vast empire of printing counterfeit dollars and the production of Mandrax, a Quaalude or a 'downer' drug sold extensively in South Africa.
Here is a detailed account of Shetty's recorded statement.

Filmy escape
The way Shetty narrated the story of Rajan's escape to the Mumbai police, it might as well have been the script of a Hollywood thriller. After the fatal attack on his life by rival gangsters Chhota Shakeel and Dawood Ibrahim, Rajan was admitted to a third-floor room in Samitivej Sukhumvit Hospital in Bangkok, heavily guarded by the Thai police. There, he hatched a plan to flee.
"His aides Bharat Nepali and Shetty bought mountaineering equipment and practised clambering walls for two days. Then one night, they got drunk with the watchman of the hospital and mixed sedatives in his drink to knock him cold," said a CB officer.
"After the watchman was asleep, they climbed down with an injured Rajan, and with the help of Thai businessman Parazane, got hold of a military vehicle and escaped to Bangkok. There, the governor of Cambodia had arranged for a special helicopter to fly Rajan to Siem Reap, from where they reached Tehran," said the officer.
The Tehran affair
Rajan took shelter in the Iranian capital Tehran for a short while. There, Rajan and Nepali shared a flat while his other gang members, Santosh Shetty and Bunty Pandey, stayed in a separate accommodation.
While recuperating in the foreign land, Rajan got into a relationship with his caretaker, with whom he has a son. He bought her a flat there.
Fake notes
In Indonesia, Rajan invested $2 lakh in Shetty's Mandrax plant in Bottam. He would send the consignments to South Africa.
Shetty kept 40 per cent of the profits and Rajan got the rest. During his stay in the capital city of Jakarta, Shetty got in a relationship with a Chinese girl who now has an eight-year-old son, Suraj, from him.
After the supply of raw material for Mandrax tablets dried up, Shetty, on the instructions of Rajan, got into the business of printing fake American dollars.
"I got fake notes from China and Indonesia and sold them in Singapore. The profit out of this business was routed to buy a restaurant in Jakarta, which I named after my Chinese girlfriend Nayatali," Shetty said.
However, he suffered huge losses when one of his consignments of around $1.2 billion was caught by the police in Singapore.
Slain by Shetty
Murders carried out by Shetty at Rajan's behest:
1) Killed Vinod Shetty who leaked information about Rajan to Sharad Shetty
2) Killed Shaukat Sarkar, who worked for Chhota Shakeel and Dawood
3) Ordered the murder of Raju Shetty, owner of Rami International Hotel, but mistakenly, got manager Mohan Saigal killed
4) Killed Jaya Shetty who refused him extortion money
5) Killed Akbar Lala, an associate of Shakeel
6) Killed Shakeel aide Rahis
7) Killed another Shakeel aide
8) Ordered the killing of Ajay Gosalia, a cricket bookie, but he survived