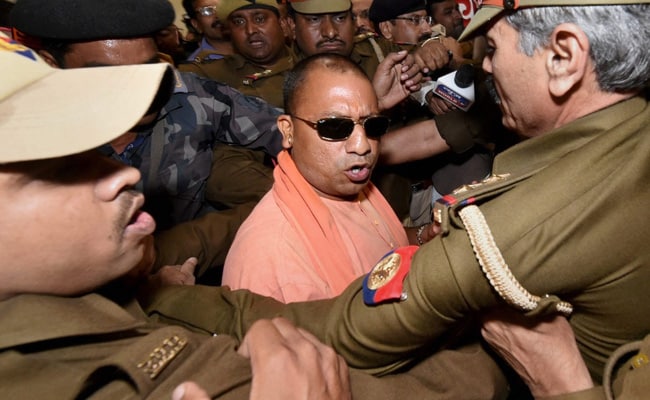 Yogi Adityanath is saffron-robed Hindu priest, a five-term member of India's Parliament and has more than a dozen criminal cases pending against him, including an attempted murder charge. In incendiary speeches across the sprawling and impoverished Indian state of Uttar Pradesh, he has long advocated for Hindu ideals and even exhorted his followers to kill Muslims.
On Saturday, in a surprise move, he was tapped to lead Uttar Pradesh by Prime Minister Narendra Modi's Bharatiya Janata Party, which analysts see as a clear signal that Modi is building on his party's recent win in the state's elections and moving to consolidate his Hindu base in a run-up to the 2019 general election.
In a front-page story Sunday, the Times of India called the selection of the "saffron hardliner" a "defiant assertion" of the party's Hindu nationalist credentials.
"By picking him to govern India's largest state, Modi and (BJP President Amit) Shah have sent a clear message that they will be bound by neither the norms of 'politics as usual' nor the requirements of political correctness," the Times wrote.
Adityanath, 44, has held sway in eastern Uttar Pradesh since he was first elected to Parliament at the age of 26, as a "sanyasi," or devotee of the Gorakhnath temple religious community.
Known as a controversial and fiery orator, he has vowed to cleanse India of other religions and in 2014 suggested that mosques feature Hindu deities.
"This is the century of Hindutva, not just in India but in the entire world," he said.
He has accused Mother Teresa as being part of a conspiracy to Christianize India and also likened a well-known Bollywood star, Shah Rukh Khan, to a terrorist. At one rally Adityanath vowed, "If one Hindu girl marries a Muslim man, then we will take 100 Muslim girls in return." He went on, "If they (Muslims) kill one Hindu man, then we will kill 100 Muslim men."
He was arrested in 2007 and spent 11 days in prison for violating prohibitory orders in what was deemed a "communally sensitive area," with tensions between the Muslim and Hindu communities. He had 18 criminal cases registered against him according to one tally during the 2014 parliament elections, including attempted murder, criminal intimidation and rioting.
During rallies for state elections this winter, Adityanath's supporters often chanted for Hindu-centric rule and demanded that Muslims leave the country. Adityanath also praised U.S. President Donald Trump for his first travel ban on citizens from seven Muslim-majority countries and added that similar action needs to be taken in India.
Adityanath was credited for aiding the BJP in winning 325 of 403 of the Uttar Pradesh's seats during the state's recent elections.
Uttar Pradesh having a population of more than 220 million people, has a history of violent riots between Hindu and Muslims. In 2013, riots between the two groups resulted in the death of more than 60 people, with thousands more displaced.
Analysts said that the state's electorate will now look to Adityanath to deliver on the party's campaign promises, including the banning of cow slaughterhouses and the building of a temple on a mosque site that has been the subject of a decades-long controversy.
Saturday's BJP announcement caught even some of the party's most staunch supporters by surprise. "I am thankful to the party and PM Modi for considering me worthy of the post," Adityanath said. "I will take UP forward with (Modi's) motto of sabka saath sabka vikas (development for all)."