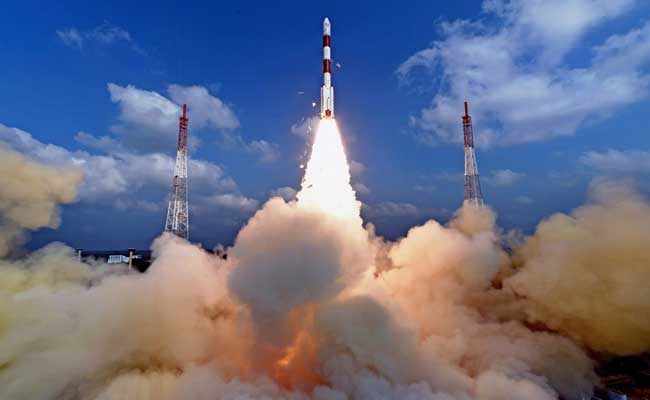 Highlights
ISRO successfully launches 104 satellites in space on its PSLV rocket
Today's launch beat the previous record of 37 satellites by Russia
ISRO rapidly gaining a global reputation for its low-cost space missions
NEW DELHI:
In India's space center on the barrier island of Sriharikota, the white-jacketed scientists held their collective breath.
India's trusty red-and-white satellite launch vehicle had just lifted off from its launchpad moments before and blasted into orbit.
The Polar Satellite Launch Vehicle C37 was about to perform a delicate maneuver - carefully sending 104 satellites into the heavens in pairs, the highest number ever attempted in one mission. One Indian space analyst on television likened the complicated maneuver to dropping children at different bus stops.
Around 10 a.m., the announcement came - all the satellites had been successfully launched. The scientists breathed a collective sigh of relief, and backslapping and applause followed.
"This is a great moment for each and every one of us. Today we have created history," said the project's manager, B. Jayakumar afterward. The total number of satellites far outstripped the previous record - 37 simultaneously sent into space by Russia in 2014.
Wednesday's launch was another success for the Indian Space Research Organization, which is rapidly gaining a reputation globally for its effective yet low-cost missions.
India has already sent up dozens of satellites, including 20 at once last year.
In 2014, India became the first Asian nation to successfully send a Mars probe into orbit of the red planet, a bargain $74 million effort that, as Prime Minister Narendra Modi noted at the time, cost less than what it took to make the Hollywood space movie "Gravity."
The fierce national pride that resulted after that success sent the Mars probe rocketing on to the face of the country's new 2,000 rupee currency note in November.
Now, India is showcasing its competitiveness in the $300 billion global space market, said Rajeswari Pillai Rajagopalan, head of the Nuclear and Space Policy Initiative at the Observer Research Foundation in New Delhi.
The 104 satellites on board - from India, the United States, Kazakhstan, the Netherlands, Switzerland and the United Arab Emirates - are considered small, micro and nano-sized spacecraft, much easier to load onto a rocket in greater numbers.
India's commercial arm, Antrix Corporation, has charged about $3 million to send a satellite into space in recent years, far less than private companies. The ability to reuse components and some government subsidies contribute to these savings, Rajagopalan said.
The complex, 90-minute mission "shows that India's space program has come a long way, and gained a lot more sophistication in terms of launch capabilities," he said.
India increased the budget of its space program by more than 20 percent this year in an effort to mount a second Mars mission in the coming years, as well as an orbiter mission to Venus that may done in collaboration with scientists from the U.S.'s National Aeronautics and Space Administration.
As the scientists in India watched anxiously on Wednesday, a group of environmentally-focused techies gathered around big screens at their San Francisco headquarters with equal excitement, filming the lift-off on their smartphones.
The American earth-imaging company now known as Planet owns 88 of the satellites sent into orbit Wednesday, and their flock of tiny craft called "Doves" will join another 12 satellites already in rotation in an ambitious project to "image all of Earth's landmass every day," the company noted in a post-launch report.
(This story has not been edited by NDTV staff and is auto-generated from a syndicated feed.)