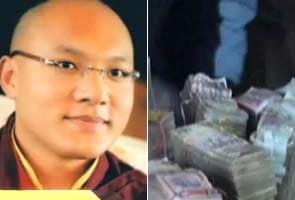 Shimla:
Tibetan religious head and the 17th Karmapa Ogyen Trinley Dorje's name was today included in a chargesheet filed by the police in a Himachal Pradesh court on the seizure of foreign currency worth Rs.70 million (over $1 million) from a monastery in January.
The Karmapa has been charged under penal provisions related to conspiracy. He is the 10th accused named in the chargesheet, filed before Una Chief Judicial Magistrate Rajesh Tomar.
Superintendent of Police Sumedha Diwedi told IANS that the court would now decide whether charges could be framed against the Karmapa.
"We are awaiting sanction from the central government for prosecuting the accused under the Foreign Contribution (Regulation) Act (FCRA)," she said, adding the offences under the law would be added in the chargesheet later.
The Karmapa is the spiritual head of the Karma Kagyu school, one of the four sects of Buddhism. He is considered the third most important Tibetan religious head after the Dalai Lama and the Panchen Lama.
Police on January 28 recovered currencies of 26 countries, including 120,197 Chinese yuan and around Rs.5.3 million in Indian currency, from the Karmapa's Gyuto Tantric University and Monastery on the outskirts of Dharamsala, the seat of the Tibetan government-in-exile.
It was after the seizure of Rs.1 crore meant for land purchase that police conducted searches at the monastery and recovered the currency.
Subsequently, seven people were arrested. Among them was the Karmapa's aide Rubgi Chosang, also known as Shakti Lama. All seven are out of jail now on bail.
The Karmapa's office told investigating agencies that the money was collection of donations from the spiritual head's followers.
Fast-track court Judge R.K. Sharma in Una directed police in September to hand over the seized currency of Rs.70 million to the central government's enforcement directorate (ED).