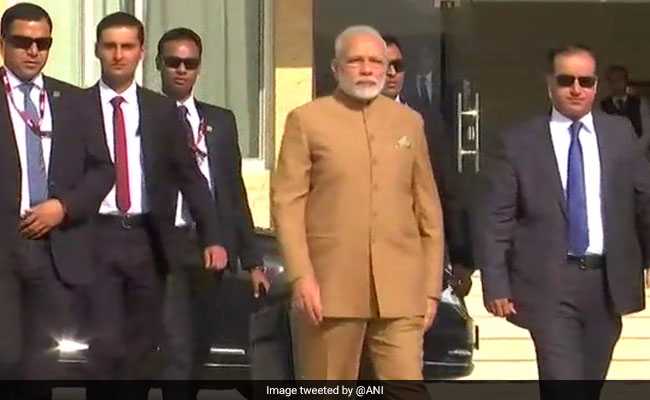 New Delhi:
Prime Minister Narendra Modi's ride into Palestine's Ramallah on Saturday was worthy of a trip jostling to make it to the history books. Quite unlike other Indian leaders who had reached Ramallah in the past through Israel, PM Modi travelled straight to Ramallah in a chopper provided by the Jordanian government and escorted by choppers from the Israel Air Force.
In an unusual clip shared by the Foreign Ministry spokesperson Raveesh Kumar, the Prime Minister's chopper is seen making his way to Ramallah with its escort. PM Modi landed at the Palestinian Authority's presidential headquarters in Ramallah.
Mr Kumar called it "history in the making".
Ahead of the visit, a Palestinian Authority official had told Israel's Jerusalem Post newspaper that they were coordinating PM Modi's flight with Jordan and Israel.
Israeli authorities control all entrance and exit points to the West Bank including its 150 km border with Jordan and the air space above.
History in the making. In a first-ever visit by an Indian Prime Minister to Palestine, PM @narendramodi on the way to Ramallah in a chopper provided by Jordan government and escorted by choppers from Israel Air Force. pic.twitter.com/Nx7AtyLS8W

- Raveesh Kumar (@MEAIndia) February 10, 2018
Later, the Foreign Ministry has called the Palestine leg of the visit, "truly memorable and historic", a sentiment reflected by PM Modi as well.
This was the first time that an Indian Prime Minister has stepped foot in Palestine that New Delhi has recognised for nearly three decades. Palestine President Mahmoud Abbas has conferred PM Modi with the Grand Collar of the State of Palestine, the country's highest honour. PM Modi later hailed former Palestine president Yasser Arafat as "one of the world's greatest leaders".
In 2015, then President Pranab Mukherjee had flown to Tel Aviv in Israel and travelled by road to Ramallah. Mr Mukerjee had, after an overnight stay at the Palestinian city, started his visit to Israel.