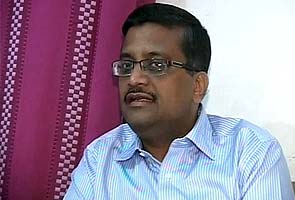 Chandigarh:
There's a new set of problems for the bureaucrat who challenged the Haryana government for granting sweetheart land deals to Robert Vadra, the son-in-law of Congress president Sonia Gandhi, often referred to as the country's most powerful politician.
Ashok Khemka is about to receive two chargesheets from the Congress government in Haryana, headed by Bhupinder Hooda. He is currently posted in Chandigarh as the Director General of Archives.
The first chargesheet asks the IAS officer to explain why he cancelled a land deal between Mr Vadra and real estate major DLF that was struck in 2008. It accuses him of exercising powers he did not have.
The second chargesheet, which has been cleared by Mr Hooda according to sources but is yet to be received by the bureaucrat, accuses him of failing to meet the targets that were set for the sale of seeds while he was Managing Director of the state-run Haryana Seeds Development Corporation. His tenure there ended in April. Mr Khemka has reportedly written to the CBI, warning of corruption within the company. He allegedly did not seek clearance from the government before lodging his complaint.
In October 2012, Mr Khemka, who headed the department that handled all land registrations, had said that a deal, which saw DLF buy 3.5 acres of land from Mr Vadra for Rs 57 crore, was mired in irregularities designed for windfall gains for the entrepreneur.
He was transferred just days later, and his decision was then over-ruled by the government, which said his allegations against Mr Vadra and DLF were unsubstantiated.