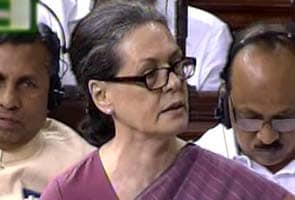 New Delhi:
The Lok Sabha on Monday cleared the government's flagship food security bill. The scheme, which will entitle 67 per cent of India to highly subsidised food, will be the world's biggest programme to fight hunger once the Rajya Sabha too has cleared it.
In a rare speech, Congress president Sonia Gandhi urged parties to pass the bill unanimously. "The question is not whether we can do it or not. We have to do it," she said, rebutting criticism that India can ill-afford the Rs 1.25 lakh crore that the scheme will cost. (
Read: Food bill India's chance to make history, says Sonia in rare speech
)
Mrs Gandhi, who got unwell and had to leave Parliament along with son Rahul before a vote was held, was admitted at Delhi's AIIMS hospital where she spent five hours before being discharged around 1.30 am. A bevy of Congress leaders, including Prime Minister Manmohan Singh, visited her at the hospital. (
Read
)
Parties had sought over 300 amendments to the bill; some were withdrawn, others were voted on one by one before the bill was passed by voice vote. Leader of Opposition and BJP leader Sushma Swaraj tweeted, "It would have been a better bill if my amendments were passed. However, we will improve it when we come to power." (
Food Security Bill: Arguments in Parliament
)
The food scheme is expected to be a mega vote-catcher for the Congress when it seeks a third term in elections next year. It has been championed ardently by Mrs Gandhi, who led the party to victory in the last two elections on the back of similar populist programmes, a rural employment scheme (NREGA) and a farmer loan waiver passed just before the 2009 elections.
The opposition - and key ally Mulayam Singh Yadav - today questioned the timing. "It's not food security, but a vote securing Bill," professed the BJP's Murli Manohar Joshi.
"Why didn't you bring this Bill earlier when poor people were dying of hunger? Is this for elections or for the hungry?" asked Mr Yadav, whose Samajwadi Party provides external support to the government. (
Read: Mulayam wants chief ministers' meet
)
Despite his objections, his party voted with the government.