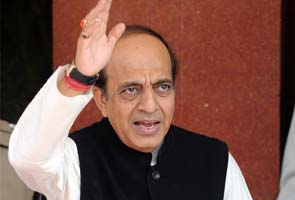 New Delhi:
His party, the Trinamool Congress, may not want him as the Railways Minister anymore but Dinesh Trivedi has found some much-needed backing from the behemoth that he is currently in charge of. Five railway unions have written to Prime Minister Manmohan Singh expressing support for Mr Trivedi, urging him to "not allow the politicisation of the Indian Railways".
The unions have, in their letter, threatened to agitate if there is a rollback in hike in passenger fares. The rise in fares, which was announced in the Railways Budget presented by Mr Trivedi on Wednesday, had triggered a political storm with Trinamool Congress chief Mamata Banerjee throwing a fit. But this time, it wasn't the Congress but her own party man Mr Trivedi, who was at the receiving end of her anger. Ms Banerjee promptly shot off a letter to the Prime Minister, demanding Mr Trivedi's immediate removal as the Railways Minister. That was not all. She also asked all her leaders to go their respective constituencies to explain the "betrayal" by Mr Trivedi. Her party also wants the government to reverse the rise in fares.
The unions, though, have made it clear that a rollback isn't acceptable to them if it is not met with a corresponding increase in support from the government exchequer. Mr Trivedi, who is facing flak from the Trinamool, has justified his decision to increase fares as one that would help raise funds for the development and modernisation of Railways. "If you roll back the fares, you have to roll back safety too," he has said. The fare hike he has announced is nominal - two paise per km for the cheapest tickets and 30 paise per kilometre for the most expensive ones.
Mamata Banerjee has already sounded out the government that she isn't willing to wait any further for Mr Trivedi's removal, reflecting in her announcement of the minister's replacement, Mukul Roy. "Mukul Roy will be next Railways Minister. He has been a Trinamool MP for six years already. He has been re-nominated to the Rajya Sabha this time. He is a good worker. Now the government will have to decide," she said in Kolkata today. With her party bringing in 19 crucial MPs to the table, the Congress which heads the UPA coalition, is also avoiding a fresh confrontation with Ms Banerjee and a resultant deterioration of the already-strained ties with her party. Dinesh Trivedi, who has defiantly stayed on as the Railways Minister so far, today made it clear that he would step down only in the event of Ms Banerjee putting down her order in writing. "Till the time the matter is absolutely clear, I have suggested I do not want to take anything verbal. For me, Parliament has more sanctity than anything. So, I suggested let Mamata write me a letter so that there is no confusion...I will perform my duty as a Railway Minister," Mr Trivedi told reporters in New Delhi today.
(Read: Dinesh Trivedi wants marching orders in writing from Mamata)
With the railway unions rallying around him, the beleaguered minister may finally have some hope.