Jaipur:
A two-year-old child was killed when politician Hema Malini's speeding Mercedes hit a Maruti Alto in Rajasthan on Thursday evening. The driver of Hema Malini's car was arrested late in the night after a first information report or FIR was filed.
Harsh Khandelwal, the father of the child who died, filed the FIR against the BJP lawmaker's driver Mahesh Thakur. Speaking with great difficulty at the Jaipur hospital where he was treated for injuries to the legs and collar bone and multiple fractures, Mr Khandelwal said he was driving the Alto, with four of his family in it.
While his daughter Chinni died, his son, 6, has fractures in both arm and legs and is in ICU at Jaipur's Sawai Man Singh Hospital. Mr Khandelwal's wife and sister-in-law too have fractures. Chinni's mother has not been told that her daughter has died.
Actor-turned-BJP-lawmaker Hema Malini, 66, who was injured on the forehead, has been criticised on social media for leaving the accident site without helping the others despite there being two very young children in critical condition.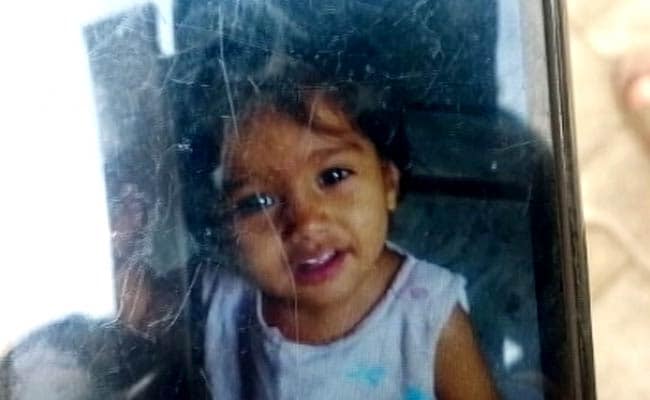 (Two-year-old Chinni, who was killed in the accident)
While she was driven to Jaipur's Fortis hospital by a local BJP leader, the injured children were first taken to a government hospital in Dausa.
The Dausa police, which arrested the driver of Mercedes, said he was driving at over 120 km per hour. He has been booked under charges of culpable homicide not amounting to murder, over-speeding and negligent driving.
"I was taking a turn on the Dausa bypass. There was a car ahead of my car which also passed through and suddenly I don't know from where this car came in and rammed us... after that I don't know what happened," Mr Khandelwal recounted.
Photographs showed the severely crumpled front end of the luxury car. The Alto was completely crushed.
"I used to drive safely. I have used the brakes, there are marks on the road of the tyres. The other car came suddenly into my way, I used breaks but failed to avoid the accident," said Mahesh Thakur, the driver arrested.
Hema Malini had plastic surgery last night for wounds on her face at Fortis hospital. A doctor said she was under post-operative care.
Get Breaking news, live coverage, and Latest News from India and around the world on NDTV.com. Catch all the Live TV action on NDTV 24x7 and NDTV India. Like us on Facebook or follow us on Twitter and Instagram for latest news and live news updates.