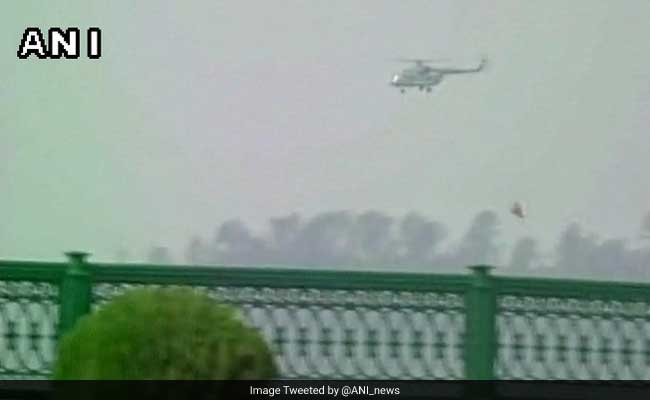 Highlights
About 70 per cent of the fires have been doused, say officials
But fire-fighting operations have been hampered due to thick smoke
Seven people have died; nearly 3,000 acres of forest cover destroyed
Dehradun:
As the forests of Uttarakhand continue to burn, 3 persons were arrested and 46 cases were filed under the Forest Act today. Of the 3 men arrested, one was from Pithoragarh and two from Nainital. Search is on for six others. A constable of the state's Forest Guards, meanwhile, died during firefighting operations in Chamoli district after a rock fell on him from above.
Here are the 10 latest developments in this story:
Governor KK Paul has expressed grief at the death of constable Pankaj Chauhan, a resident of Kotdwar, whose death takes the total number of the lives lost in fire related incidents to 4. An ex gratia of Rs 4 lakh has been granted to his family.

Satellite pictures now show 70% of the fires have been doused. The state hopes for some relief after the weather department predicted rain in in the next 24 to 48 hours.

Confirming that the fires have been brought under control, Union minister Prakash Javadekar said, "There were fires at more than 1,200 places earlier. Today it is in less than 60 places."

The six men for whom a hunt is on, had allegedly set fire to the forest in Ranibagh area, said district magistrate Dipak Rawat. "We have the numbers of their motorcycles and we will definitely get to them,' he added.

The Uttarakhand High Court has taken suo motu cognisance of the forest fires and a petition has been filed. The Court has asked the Central and the state governments about the total area affected by the forest fires, the number of deaths and the number of trees damaged.

The court has also asked what the state has done to implement the guidelines laid down by the Disaster Management Act, 2005. The court has asked the Centre and the state government to file their replies by May 9.

But incidents of fire have been reported from Himachal Pradesh, where high leaves have ignited the dry leaves on the ground. Firefighting have been on at Solan, Shimla and Kullu districts. Children of a school in Kasauli had to be evacuated today after the fire reached

Air Force choppers resumed fire-fighting today, but their sorties were delayed due to poor visibility and thick smoke.

Firefighting operations are now underway from Haldwani. The helipad at Ghorakhal is now being used for fire-fighting operations.

Besides the 6,000 firefighters, personnel of the National Disaster Response Force or NDRF, the Army and the Air Force are working to douse the fires.