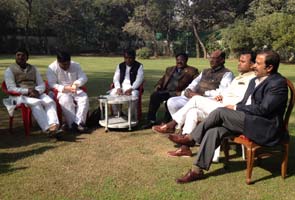 New Delhi:
Nine Congress MPs from the Telangana region in Andhra Pradesh today decided to boycott a meeting with Parliamentary Affairs Minister Kamal Nath ahead of the debate and voting in Parliament on the Foreign Direct Investment (FDI) in multi-brand retail issue.
The MPs haven't made it clear if they plan to abstain during the voting. Sources said they are upset that the Telangana issue is being overlooked by the party and the UPA government.
Statements by Andhra Pradesh Chief Minister Kiran Kumar Reddy and Vijayawada MP Rajagopal that the votes of Telangana MPs won't matter too have offended them.
The meeting had been called by the parliamentary affairs minister to seek their assurances on the FDI vote in favour of the government.
"We boycotted the meeting. We did not want to go," Karimnagar MP Ponnam Prabhakar told the Press Trust of India. His colleague and Nizamabad MP Madhu Goud Yaskhi said they had unanimously decided to boycott the meeting.
The debate on FDI will begin in the Lok Sabha at 2 pm. Leader of the Opposition Sushma Swaraj will speak first proposing the motion. After arguments for and against, the motion will be put to vote in the Lower House tomorrow. The Rajya Sabha will begin debating the issue on Thursday and will vote on Friday.
The government has secured the support of all UPA partners, including the DMK, for the vote. Two allies, the Bahujan Samaj Party and the Samajwadi Party, that provide support to the UPA from outside have hinted they are unlikely to go against the government.
The Congress has also issued a three-line whip asking its MPs to be present in Parliament and vote in favour of the government. If the Telangana MPs abstain from voting, they risk action from the party.
(With PTI inputs)