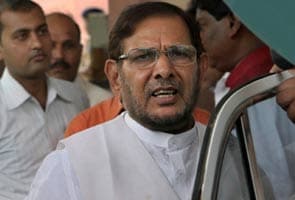 New Delhi:
The Janata Dal (United), a key National Democratic Alliance (NDA) ally, today said it would not be rigid about demanding voting in Parliament during any discussion on FDI in multi-brand retail and would rather prefer a consensus on the contentious issue.
JD(U) chief Sharad Yadav said his party does not want Parliament's Winter Session, which begins on November 22, to be washed out by disruptions like the Monsoon Session had.
Mr Yadav said the JD(U) has given notices to Lok Sabha Speaker Meira Kumar for a discussion on FDI in multi-brand retail under rule 184, which entails voting, as well as 193 that allows a debate.
"We will go with any of the two options there is a consensus on," Mr Yadav said. The JD(U) has also given notices for discussions on CAG reports on aviation, power and coal block allocation, he informed.
"Parliament will run fully this session. There is no question of a washout. It is through debates in Parliament that public opinions are formed," Mr Yadav said.