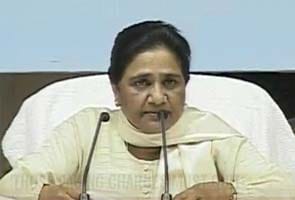 Lucknow:
The opposition to the government's decision to raise the cap of Foreign Direct Investment (FDI) in the retail sector found another voice as Uttar Pradesh Chief Minister Mayawati today slammed the move, dubbing it as "dangerous" for small traders.
In a stinging criticism of the Centre's latest reform plan, Ms Mayawati, who is also the chief of the Bahujan Samaj Party (BSP), said that the FDI plan was a move to benefit foreign companies like Walmart. The Cabinet's nod to allow 51% FDI in the multi-brand retail segment will facilitate giants like Walmart, Carrefour and Tesco to set shop in the country. Previously, such retailers were not allowed to conduct retail business in the country.
Taking her attack on the Centre a step further, the Chief Minister said that FDI in retail would help Congress General Secretary Rahul Gandhi's foreign friends. The salvo at the young Congress leader comes in the wake of a series of attacks by Mr Gandhi on the Mayawati-led government, accusing her of corruption and underdevelopment in the state.
Accusing the government of moving on the FDI front despite opposition from its allies, Ms Mayawati warned of strong steps if the decision wasn't withdraw.
The BSP chief's criticism comes in the wake of pressure from allies as well as the Opposition for a rollback of the decision. There was, in fact, a major ruckus in Parliament yesterday over the issue with the Bharatiya Janata Party (BJP) even mulling over an adjournment motion in the Lok Sabha on the issue on Monday.
But the government seems unfazed by the opposition, contending instead that FDI in multi-brand retail will not only help farmers but will also create jobs.
(Read)
Get Breaking news, live coverage, and Latest News from India and around the world on NDTV.com. Catch all the Live TV action on NDTV 24x7 and NDTV India. Like us on Facebook or follow us on Twitter and Instagram for latest news and live news updates.