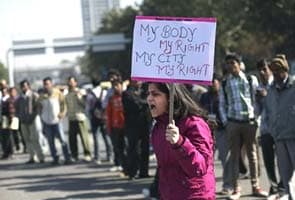 Ballia (Uttar Pradesh):
The family of the 23-year-old medical student has said that it would be an honour for new anti-rape laws to be named after her, as suggested yesterday by junior minister Shashi Tharoor. However, sources in the Ministry of Home Affairs say that the changed rape law cannot be named after the victim since in the Indian Penal Code, the Code of Criminal Procedure, and the Evidence Act, there are no provisions to name a particular section under somebody's name.
Amanat (NOT her real name) was raped on a moving bus in Delhi on December 16 by six drunk men. She died over the weekend. Her identity has not been revealed.
Thousands in India have vowed to channel their unmitigated anger and grief into fighting for improved safety for women, and tougher penalties for those convicted of sexual assault.
The government has assigned a committee headed by retired Supreme Court judge JS Verma to review criminal laws and consider amendments to introduce enhanced punishment for extreme sexual crimes. On Friday, Home Minister Sushil Kumar Shinde asked leaders of all political parties to share their suggestions with Justice Verma. The BJP wants the death penalty for rapists. More than 18,000 emails with suggestions from the public have also been received by the Verma Commission.
The government intends to share his report with Parliament.
The Press Trust of India reports that Amanat's father and brother told the news agency that if the government names the revised anti-rape law after her, they have no objection and "it would be an honour to her".
Mr Tharoor had yesterday tweeted, "Wondering what interest is served by continuing anonymity of #DelhGangRape victim. Why not name&honour her as a real person w/own identity?" he asked on micro-blogging site Twitter.
"Unless her parents object, she should be honoured&the revised anti-rape law named after her. She was a human being w/a name,not just a symbol," he posted.
On reports that Telugu filmmaker Ramana Gaddam planning to make changes in his upcoming film to highlight the brutal gangrape, Amanat's brother said that the director should meet them and clarify what he wants to portray in the movie. (
Read: Telugu Director plans film on 'Amanat' case
)
Asked about the financial assistance of Rs 20 lakh announced by the Uttar Pradesh government and assistance of Rs 15 lakh and job announced by Delhi government, Amanat's brother said though announcements have been made, they are yet to receive the assistance.
However, Amanat's father said he was satisfied with the announcements made by the government.
Her family said that reports that she was planning to marry soon were misleading. Her boyfriend was on the bus with her when she was attacked and was hit relentless with an iron rod when he tried to protect her. Media reports said he attended her cremation on the weekend.