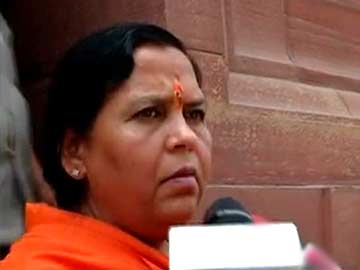 New Delhi:
Union Minister for Water Resources Uma Bharti today said expertise from premier IITs would be utilised for cleaning Ganga River.
"We will be using various technologies for rejuvenation of Ganga River. We will be utilising the services of IIT experts and explore all possible options," she told reporters on the sidelines of 'Ganga Manthan' in New Delhi.
"The Modi government is concentrating on how fast we can usher in development without any flaw. We are executing things at a fast phase. The Ganga rejuvenation project would be completed within the shortest period," she asserted.
Replying to a query on the inter-linking of rivers, which was the vision of former Prime Minister Atal Bihari Vajpayee, she said that there was no progress in the last 10 years in this regard.
"The concept of interlinking of rivers has been halted. The earlier government did nothing. Therefore, it has not progressed further in the last 10 years. There was no activity; we would use modern technology for the purpose. We will not flout any environmental rules in any way," she added.
Ms Bharati also announced that a web portal would be launched as part of Ganga clean-up to get suggestions from various stake holders.
"We have decided that we will create a website for Ganga and by the end of this week, suggestions will be uploaded. We will discuss the suggestions and move towards a conclusion," she stated.
She emphasised on creation of a structure to take effective action against those committing offences, so that the society itself protects the free flowing nature and purity of Ganga.