New Delhi:
It's a story that has been forgotten in the fanfare of India's first women fighter pilots being commissioned into the Indian Air Force earlier this year.
India's first women combat aviators went into a war zone 17 years ago, during the Kargil War. And while Flight Lieutenant Gunjan Saxena and Flight Lieutenant Srividya Rajan never flew fighter jets, they did fly through an area where Pakistani soldiers fired bullets and missiles at virtually any Indian helicopter or aircraft that they could spot. Their tiny Cheetah helicopter was unarmed and entirely defenceless against enemy fire. And yet, like so many of their male counterparts, the two young women soldiered on, flying dozens of sorties directly in harm's way during the 1999 war in North Kashmir.
Back then, women pilots were still new in the Indian Air Force and there was always a sense that they had to work extra-hard to prove to be equal to their male counterparts.
Gunjan said as much when we interviewed her 17 years ago in Udhampur, "I mean this was a very new thing for the Air Force - to see women pilots working with them, flying with them every day. So they used to see us to see if we would be able to cope with the conditions and the stresses that you face."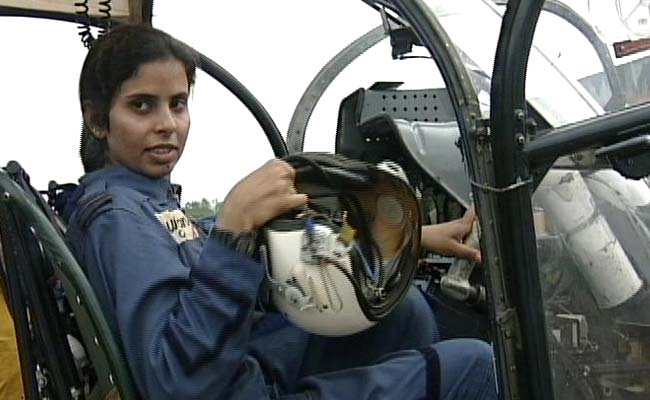 Both Gunjan and Srividya performed brilliantly. Tasked with casualty evacuations and spotting Pakistani positions in the Kargil region, the two pilots often flew very close to Pakistani positions albeit at a height which they believed would be beyond the range of Pakistan gunners. One day, Gunjan's chopper came under direct attack while it was positioned at the Kargil airstrip. A Pakistani soldier had fired either a rocket or a shoulder fired missile directly at her aircraft. The weapon missed her chopper thudding into the hillside behind her. Not deterred in the least, Gunjan continued her operational sorties carrying a fully loaded INSAS rifle and a revolver with her in any mission. If she had a crash landing close to Pakistani Army positions, she would fight her way out of trouble or would go down fighting. Just like her brother, an Indian Army officer who happened to be fighting in the Kargil War at the same time.
Today, 17 years later, Gunjan tells us that missions where she evacuated injured Indian Army soldiers were her biggest motivation during Kargil. "I think it is the ultimate feeling that you can ever have as a helicopter pilot. That was one of our main roles there - casualty evacuation. I would say it's a very satisfying feeling when you save a life because that is what you're there for," she said.
Flight Lieutenant Gunjan Saxena never had the opportunities that young women in the IAF now have. As a short service commissioned officer, her tenure ended after seven years. But her association with the IAF has never ended. Married to an Indian Air Force Mi-17 helicopter pilot, Gunjan says it's wonderful that women pilots can get a permanent commission now - "I think inducting women in the fighter stream is a very, very big and a positive step on part of the Air Force. Being a pioneer, I would say, it feels great and I would only say that I hope these women who've come into the fighter stream now give their 100 per cent and really, really touch the sky with glory."