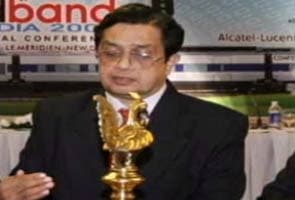 Thiruvanathapuram:
As PJ Thomas digs his heels in, refusing to quit as Central Vigilance Commissioner and fighting back governmental pressure, he has found support in former bureaucrats of Kerala where he served as Chief Secretary before his stint at the Centre.
"Right from 1973 when he was recruited, till the Palmolein case surfaced, and even after that, there has not been a single allegation against him in terms of his integrity or his conduct. It is just the circumstances of this particular case. That is why we all go out to support Thomas's stand," said Dr Babu Paul, ex-Additional Chief Secretary, Govt of Kerala.
Thomas' appointment as CVC came under the scanner as his name figured in the list of accused in Palmolein import case.
According to documents available with NDTV, Thomas as Kerala Food Secretary in 1991 wrote to the Centre seeking permission for direct import of 15,000 tonnes of Palmolein.
This was surprisingly nine days before the Cabinet actually took the decision.
According to a government report tabled in the Assembly, Thomas' letter to the Centre was the basis of the murky Palmolein import deal.
In 2005, at the fag-end of its tenure, the Congress government in Kerala decided to withdraw the Palmolein case. This was seen by many as an attempt to save late Congress leader and the then Chief Minister K Karunakaran, the prime accused in the case.
But the Left government led by VS Achuthanandan that came to power in 2006 re-opened it.
"I don't think Thomas is involved in any kind of corruption. Because of political vendetta, the CPM pursued the Palmolein case in court with an aim to gain political mileage," said Ramesh Chennithala, President, Kerala Pradesh Congress Committee.
"The allegation of the Congress that it is political vendetta is wrong as far as the political leadership is concerned. The civil servants and officers did have collateral responsibility," said M A Baby, Education Minister and CPM Central Committee Leader.
With Assembly elections in Kerala barely months away, the Left is all set to use the CVC issue to put the Congress in a tight spot. But while claiming the high moral ground, the Left government will also find it tough to defend its own decision to appoint Thomas as the state's top bureaucrat in 2007.