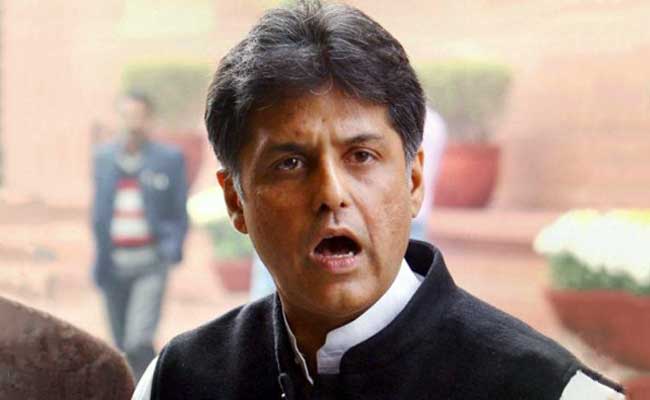 New Delhi:
After much consternation and unease within the Congress over Pranab Mukherjee's visit to RSS headquarters, party leader Manish Tewari today asked the former president why he chose to go there and deliver "homilies on nationalism" after having cautioned young Congressmen like him against the Sangh.
Taking to Twitter, the former Union minister posed some stinging questions to Mr Mukherjee as he asked what was evil about the RSS then that has now become virtuous, and if he was attempting "to mainstream" the Sangh.
Drawing parallels, he said after the 1938 Munich pact, the other countries had the false notion that they had bought peace with the Nazis, who overran Europe.
Mr Tewari also told the veteran Congressman that whatever the motivation behind the visit, it will be seen as an attempt to mainstream RSS in secular and pluralistic consciousness.
"May I ask you a question that you still have not answered that is bothering millions of secularists and pluralists. Why did you choose to go to the RSS headquarters and deliver homilies on nationalism?
"Your generation cautioned mine in training camp after training camp through 1980's and 1990's about the intent and designs of RSS.
"You were a part of the government that banned RSS in 1975 and then again in 1992. Don't you think you should tell us what was evil about RSS then that has become virtuous now?," he asked.
Mr Tewari said "either what we were told then was wrong or your lending respectability if not legitimacy to RSS by the act of association is not kosher given your stature in public life. Was it an attempt at ideological rapprochement/lowering bitterness in political firmament/positioning as cynics suggest."
"Whatever the motivation was, it will be seen as just an attempt to mainstream RSS in secular and pluralistic consciousness. History tells us when Nazi's were strutting around Europe in black berets Chamberlain through Munich Pact- 1938, thought he had bought the 'Peace of our Times'. What a false dawn it was??," he said.
A number of Congress leaders including Sonia Gandhi's political adviser Ahmed Patel and Mukherjee's daughter Sharmistha Mukherjee have questioned the former president over his visit.
While Sharmistha Mukherjee had said her father was giving the BJP and the Sangh a "full handle" to plant false stories and that his speech would be forgotten but the visuals will remain, Patel had said, "I did not expect this from Pranab da!".
After the speech, Ms Sharmistha said that as she had feared and cautioned her father against, the "dirty tricks department" of the BJP-RSS was at work in full swing, after a morphed picture was circulated on social media showing the former president raising his hand in salutation like the RSS leaders and cadres.
"See, this is exactly what I was fearing and warned my father about. Not even few hours have passed, but BJP/RSS dirty tricks dept is at work in full swing!" she said, responding to a tweet showing a "morphed" picture of Pranab Mukherjee doing the salutation along with RSS leaders and cadres at the RSS headquarters in Nagpur yesterday.