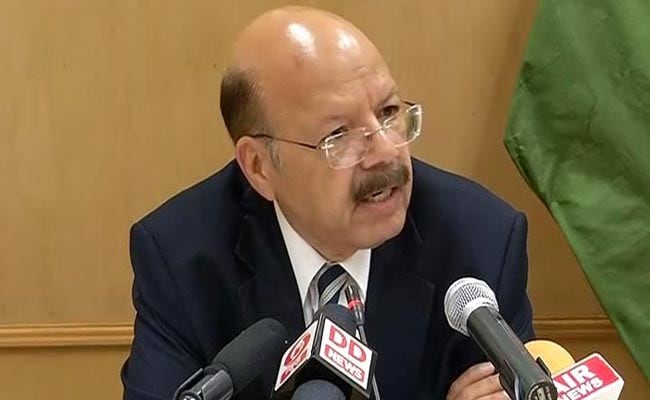 New Delhi:
Assembly elections in Assam, West Bengal, Tamil Nadu, Puducherry and Kerala will be held between April 4 and May 16. Votes in all five states and one union territory will be counted on May 19. Below are the highlights from the press conference addressed by Chief Election Commissioner Nasim Zaidi:
824 assembly constituencies going to polls in Tamil Nadu, Kerala, West Bengal, Assam and Puducherry, says Chief Election Commissioner
Model Code of Conduct comes into effect immediately
170 million voters will take part in these elections- Assam- 1.98 crore, Kerala- 2.56 crore
Tamil Nadu- 5.80 crore, West Bengal- 6.55 crore, Puducherry- 9, 27,000
Seek cooperation from all stakeholders in compliance of code of conduct
Central observers will monitor photo voters list
More than 7 lakh dead and duplicate entries have been removed. The name of voters in list is mandatory, possession of ID cards is not enough.
All women polling stations to be set up in the five states
For the first time, a symbol for NOTA (None Of The Above Option) has been provided in all these states
Stations to be set up at leprosy centres, visually impaired schools
Ramps at all polling stations to ensure inclusion and easy access for persons with disabilities
Electronic voting machines to be used in all polling stations
Photographs of all candidates will be present on the EVMs to eliminate confusion for voters
An effective monitoring of preventive actions against anti social elements commences today
More than adequate central paramilitary forces to be deployed
Every district will have five central observers. The commission will be monitoring their daily feedback very closely
All flying squads and mobile teams to have GPS for better internal monitoring
To curb the abuse of money, our strengthened mechanism for paid news will be used
Elections in Assam to be held in 2 phases- 4th April and 11th April
Elections in West Bengal to be held in 6 phases- First phase polling on 4th April and 11th April, second phase on 17th April, third phase on 21st April, fourth phase on 25th April, fifth phase on 30th April and sixth phase on 5 May.
Polling in Kerala, Tamil Nadu and Puducherry to be held in single phase - on 16th May.
Counting of votes in all states to be held on 19th May.