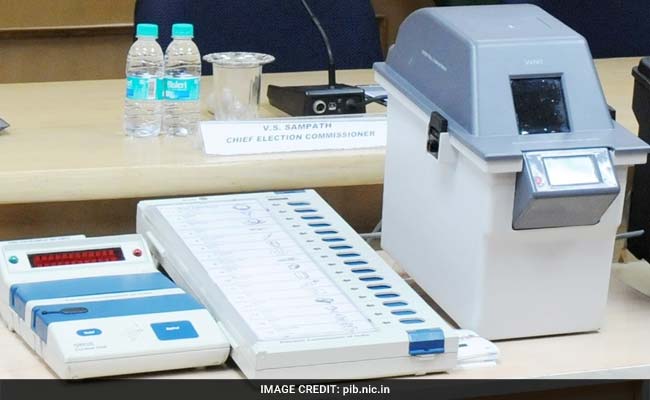 Highlights
Akhilesh Yadav demanded paper ballots be used for the 2019 elections
OP Rawat said problems will be identified, corrections be made by 2019
Election body had blamed extreme heat for faulty EVMs on Monday
New Delhi:
As the Samajwadi Party's Akhilesh Yadav led a renewed offensive against voting machines, Chief Election Commissioner OP Rawat told NDTV that it was not correct to go back to paper ballot papers but said the "political parties are free to have their own take". Mr Rawat underlined that the commission and the polling staff would be able to reduce the instances of the VVPAT, or voter verifiable paper audit trail machines, malfunctioning in the 2019 elections due to better training.
He also clarified what commission officials meant when they blamed direct sunlight and extreme heat for the faults.
The commission has come in for much ridicule on social media after its officials blamed extreme heat and direct sunlight for the high incidence of faults.
Akhilesh Yadav, who demanded that the commission scrap the machines
and use paper ballots
for the 2019 elections, said
VVPAT machines
only developed a fault in polling stations that were a stronghold of his party and wondered, going by the commission's explanation, "if it was cold in other parts of the constituency".
Mr Rawat explained.
The VVPAT are sensitive to light because these have contrast sensors. "So if these machines are placed under direct light, sunlight or even a tube-light, they start malfunctioning. Plus if there is extreme heat, the paper roll starts giving trouble," he told NDTV.
But the heat and direct light was only one side of the problem.
The other, he said, was training of the polling staffers.
He said if polling personnel miss the slightest critical component of training that they are put through - because of a phone call or something else - they lose out. When they go to polling station, they are not able to follow the right sequence and can't install the VVPAT correctly.
But wouldn't these factors including the scorching heat be a problem in 2019 too?
Mr Rawat did not think so. "These machines would have stabilised... the training would have stabilised and more polling staff would have hands on experience in handling the VVPATs," he said, underlining that it was important to make a distinction between the EVMs, which are made up on a control unit and balloting unit, and the VVPATs which are of more recent vintage.
During the Punjab assembly election, Mr Rawat said there was a constituency where nearly 36 per cent VVPATs
had malfunctioned
.
This has been the case because "these machines are newly manufactured, for the first time deployed, training is also first time, polling parties are also handling these machines for first time".
By 2019, Mr Rawat said the detailed root cause analysis that is carried out by the commission's experts would help identify the common problems and suggest corrective steps.