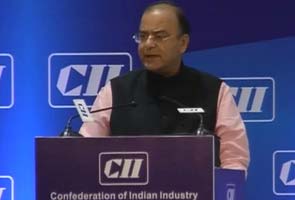 New Delhi:
The BJP's Arun Jaitley did not refer to the day's other big speaker
Rahul Gandhi
in his speech at the CII's star-studded summit today, taking on Prime Minister Manmohan Singh instead. The PM's tragedy, he said, was that he was "running a three-legged race".
Mr Jaitley was referring to the Congress's dual-leadership with Sonia Gandhi as a powerful party president and Dr Singh as PM, a model that is being internally debated by the Congress, which is torn on whether it will repeat the experiment with Mrs Gandhi's son, Rahul. Mr Jaitley said the Congress's model was faulty; the elected leader must have the last word, the ability to over-rule and take the biggest decisions.
Mr Jaitley said, "We have had chances of disagreeing with the PM, but we have never doubted his wisdom." But, he said, he doubted his ability to implement.
"You talked about achieving a nine per cent growth rate, but where is the road map of how you'll get there," he asked, adding that differences between the UPA's coalition partners had hit economic growth. (
Read highlights of Arun Jaitley's speech
)
"Someone must answer why Rs 7500 crore is blocked because ministers can't see eye to eye. Some taxation moves are driving international investors away. Reforms is the art of the possible, some are more challenging but some are more achievable," the BJP leader said.
He accused the PM of knowing the problems and the "possible answers," but said the government's priorities had changed because it was focused not on "quality of governance" but winning elections. That, Mr Jaitley said, had led the UPA 2 to indulge in "fiscal indiscipline" and contended that the years of the BJP-led NDA rule were better than those of the present government. (
Watch Mr Jaitley's full speech
)
This morning, Mr Gandhi had casually chatted winsomely with India Inc (
Read
); Mr Jaitley's speech was a formal, well-constructed one. Both said their party was India Inc's best bet to partner with for economic growth. The similarity ended there.
Unlike Mr Gandhi, Mr Jaitley had no parables to share. He made a political pitch. He told India Inc, "Your concerns as industry are not different from ours as political activists or citizens. The creation of environment for consultation has to come from the government."
He smiled and drew some cheers when he said, both at the beginning and at the end of his speech, that he hoped the BJP would inaugurate the function and not give the valedictory address next year - as the party in governance. Dr Singh had inaugurated the summit yesterday.