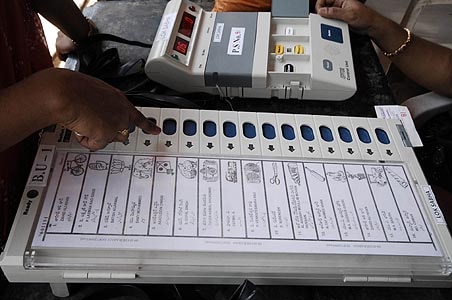 New Delhi:
Rejecting BJP's charge of malfunctioning of the electronic voting machines (EVMs), the Election Commission tonight said it was satisfied about their foolproof working and it would consider measures to clear the apprehensions of political parties.
"The EC is amply satisfied about the non-tamperability and the foolproof working of the EVMs. The Commission's confidence in the efficacy of the EVMs has been fortified by the judgments of various courts and the views of technical experts," the Commission said in its press note reacting to reports about the technological vulnerability of EVMs.
The Commission would, however, consider all the points raised and apprehensions expressed recently by various political leaders and individuals regarding EVMs and take all necessary measures to clear doubts about use of EVMs in elections.
The EC's clarification came in the wake of BJP leader L K Advani demanding reintroduction of ballot papers in elections, beginning with the Maharashtra assembly polls and three other states, observing that there was every possibility of malfunctioning of EVMs.