New Delhi:
At least 20 people were killed and more than 300 others injured in Pakistan today after a 6.3 magnitude earthquake hit north-west of Lahore earlier in the afternoon. The tremors were felt at 4:33 pm in Delhi, many claimed. The tremors lasted only for a few seconds. Some parts of north India, including Kashmir, Punjab's Chandigarh and Uttarakhand's Dehradun also experienced the tremors. So far, there have been no reports of any loss to life or property due to the earthquake.
Here are the highlights of the earthquake today and the tremors felt in Delhi-NCR:
Pakistan's major water reservoir Mangla Dam located near Mirpur remained safe, the officials said. Mangla dam power house has been closed, cutting off 900 MW power supply to the national grid, they said.
Roads, mobile phone towers, and electricity poles in the area were badly damaged in Mirpur
"People here felt the tremors of an earthquake. The epicentre of the earthquake was Pakistan-India border, Jammu and Kashmir region. The magnitude of the quake was 6.3 on the Richter scale. Due to high magnitude, tremors were felt in parts of Himachal Pradesh too," Manmohan Singh, Director of IMD, Shimla told news agency ANI
"At least 19 people have been killed and more than 300 wounded," said Sardar Gulfaraz, deputy inspector general of police in Mirpur -- a city in Pakistan-controlled Kashmir near the epicentre of the quake -- in televised comments.
In Pakistan several cities including Peshawar, Rawalpindi, Lahore, Skardu, Kohat, Charsadda, Kasur, Faisalabad, Gujrat, Sialkot, Abbottabad, Mansehra, Chitral, Malakand, Multan, Shangla, Okara, Nowshera, Attock and Jhang felt the tremor.
Tremors were also felt in Shimla, Mandi, Kangra, Una and other parts of Himachal Pradesh
People come out of the Ambadeep Building at Connaught Place during a tremor in New Delhi.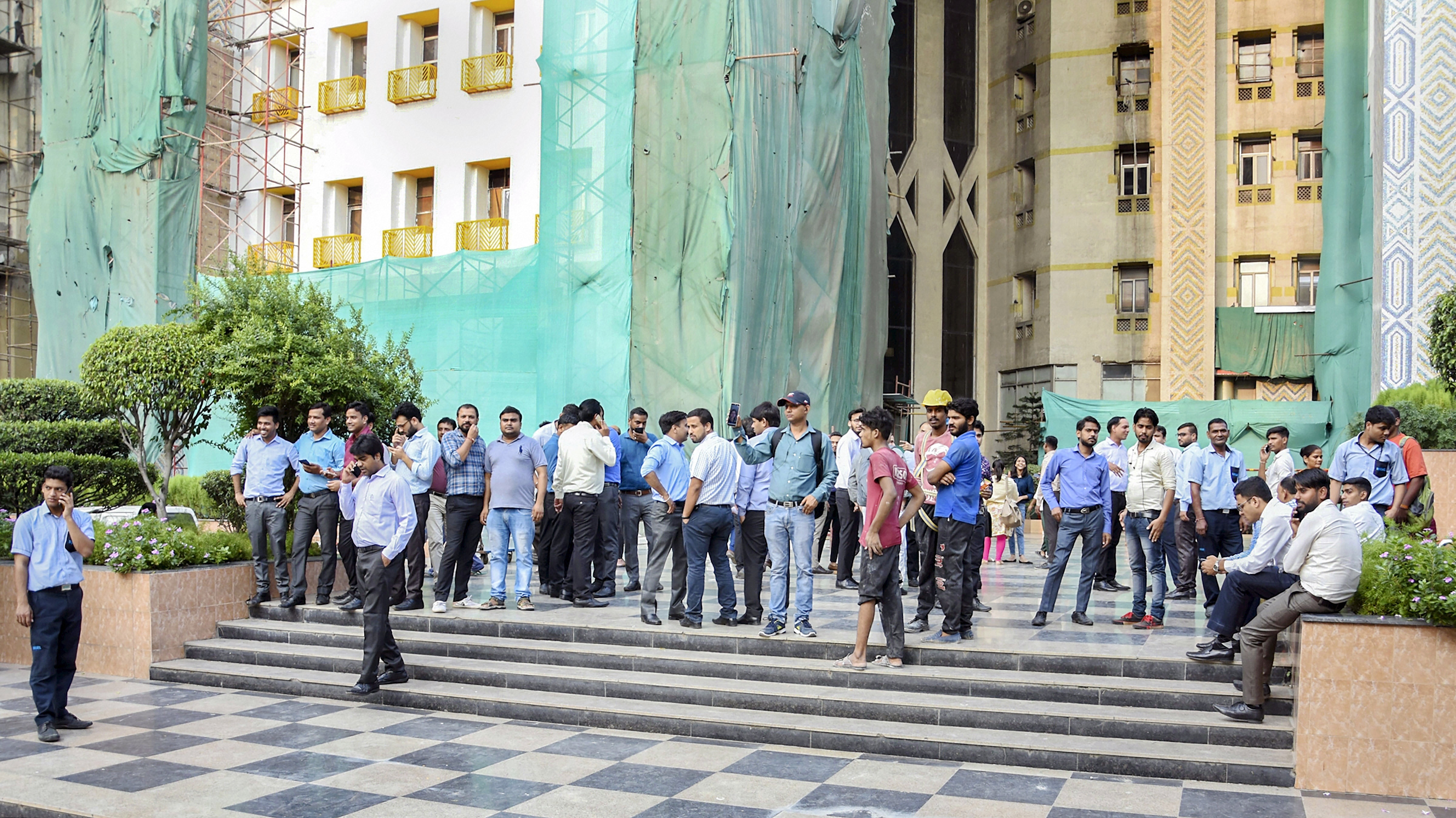 "No damages have been reported so far. We are ascertaining details from the ground-level": Kashmir Zone Police
TV channels showed footage of heavily damaged roads in Mirpur in Pakistan-Occupied Kashmir, with many vehicles overturned.
Pakistan Meteorological Department's earthquake centre said the 5.8-magnitude earthquake was located near the mountainous city of Jhelum in Punjab province. Its depth was at 10 kilometres. However, Minister for Science Fawad Chaudhry said that the intensity of the earthquake was 7.1.
JL Gautam added: "The epicentre was near the India-Pakistan border. The closest big city to the epicentre is Rawalpindi (in Pakistan's Punjab province)."