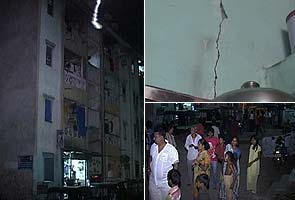 Mumbai:
Light tremors were felt in Mumbai after an earthquake measuring 5.3 on the Richter scale jolted Gujarat on Thursday night. There were, however, no immediate reports of any casualty or damage.
The epicentre of the quake of moderate intensity, which shook the state at around 10:48 pm, was 20 kilometres south east of Sasangir near the Vansthli town in the Junagadh district, said the Indian Met Department.
"The epicentre of the earthquake which registered 5.3 on Richter scale was at Junagadh in Gujarat...tremors were felt here," director of Met Department at Mumbai, Rajeev Nair, told PTI.
Officials said the quake was felt for 25 seconds in Junagadh and people rushed out of their homes in panic.
The tremor was felt in several other parts of the state including Ahmedabad.
Twitter saw a lot of users in Mumbai exchanging notes. (
Buzz on Twitter
)
Gujarat was rocked by a 7.6 magnitude earthquake on January 26, 2001 leaving 20,000 people dead and causing widespread destruction with the worst-affected being the Kutch region.
View Larger Map